Disclosure: Some of the links below are affiliate links, meaning, at no additional cost to you, Storehacks may earn a commission if you click a link to an external source.
Are you stuck trying to figure out if Shopify or Etsy is the best option for you? Well, you may be pleased to know that the answer to that question is more about the way that you sell your products, rather than a 'Shopify vs Etsy' comparison.
Etsy and Shopify are two of the most popular ways to sell online, but they're completely different.
Shopify is an ecommerce platform.
Etsy is a marketplace.
If that's not clear to you, it might be easier to help you picture if this way.
Shopify is your local Nike shoe store.
Etsy is the Athlete's foot.
To directly compare them like they're the same kind of product isn't going to help. Yes, they're both ways to sell a product online, but that's about where the similarities end.
If you want to know the difference between these guys and who wins the Shopify vs Etsy battle, you're in the right place.
In this article, you'll learn:
What can you sell on Etsy and Shopify?
How much does it cost to sell on Etsy vs Shopify?
Etsy Pattern vs Shopify.
Now you'll see more about our competitors in this Shopify vs Etsy battle. 
What is Shopify?
Shopify is an all-in-one solution to building your own online store. There are many Shopify alternatives out there that can help you build a standalone online store, but Shopify is the most popular and well known.
Using Shopify, you are responsible for driving traffic to your store.
You are also in total control of the:
look,

layout,

color and design
…of every single element of your store.
You select the ways that you can be paid, too. 
You pay a monthly fee as well as a per-transaction fee based on the final sale price of each of your orders. 
Many people find success by drop shipping and selling POD (Print on Demand) clothing on Shopify.
What is Etsy?
Etsy is a marketplace that lets you design a storefront and sell your product online. People go to Etsy and search for a product they're interested in, and they might find your brand in doing so.

You pay a fee for the privilege of getting in front of Etsy customers.
That's another thing worth noting –
When someone buys from your Etsy store, they're not your customer. They're an Etsy customer.
You don't get their email address for email marketing, you're not allowed to follow up and encourage them to buy from you again. Quite restrictive…
This greatly differs from Shopify in that the Etsy Marketplace is a massive network of small stores all selling products. 
Shopify vs Etsy – How else are they different?
When it comes to Shopify vs Etsy, you can now see that they're not exactly the same thing. Here are a few other ways that they're a little different.
If you plan on starting an online store, it's absolutely crucial that these things are different on Etsy and Shopify:
Rules of selling
Personalization & design
Fees
Types of customers
Inventory management
Let's take a closer look at each of the ways that Etsy and Shopify are different:
Rules of selling
When it comes to what you can and can't do with Shopify vs Etsy, the rules are drastically different.
When you sell on a Shopify web store, you're allowed to sell whatever you'd like – well, a majority of things, anyway.
Etsy, on the other hand, is quite specific about what sellers can sell.
The Etsy Marketplace has become famous as it's a massive collection of small, one-of, boutique, unique and handmade items. Vintage and retro goods are also very common on Etsy.
When it comes to Shopify, well, you can sell just about anything you'd like.
Personalization & Design
Using Shopify, you can customize your store until your heart is content.
Don't like a color? Change it.
Don't want that section there? Drag it away and replace it.
With Shopify, you pick the colors, the layout, the design of your store. Everything is up to you.
When you're selling on Etsy, you're literally selling under the name of another company.
Selling on Etsy, you can upload your store logo and a header image, but that's about it. No matter what you sell, the Etsy name will always be at the top of the page.
More often than not, people will say 'Oh, I bought it on Etsy!' rather than 'I got this from Steve's awesome online store'.
See below for an example of Etsy getting the credit and a small brand's name being completely forgotten:
So when it comes to Shopify vs Etsy in terms of personalization (and who gets the credit), it's a Shopify win
Fees
You can see more specifics about the pricing of Shopify vs Etsy in more detail below.
What you need to know now though is that Shopify is more expensive to get started, but in the space of 12 months, Etsy ends up being more expensive.
Types of customers
It's all well and good getting a lot more people to see your item, but that's useless if the people that see your product aren't actually interested.
That's why picking Shopify or Etsy is so important – you attract a different kind of customer to your store.
To run a successful Shopify store, you need to be proactive with marketing. You need to go out of your way to get your name known by your ideal customer.
Think of it in the following way –
I'm looking for a new winter jacket – I'll check out Etsy.
I'm looking for navy blue, double-breasted, full-length wool trench coat – I'll check Google
And this is where the biggest difference between Shopify and the Etsy Marketplace comes in to play.
When marketing your Shopify store, you may learn a thing or two about SEO. SEO, or Search Engine Optimisation, is the art of getting your page to appear high in a relevant search listing.
If you optimize an Etsy store for SEO, you might rank quite high for a generic term (eg, Winter Coat).
However, if you use a Shopify store, you have much tighter control of your SEO, and therefore can attract each and every customer who searches Google for a navy blue, double-breasted, full-length wool trench coat.
Long story short, people browse Etsy. People who know what they want and are ready to buy usually end up on a Shopify web store.
Payment processing
When you sell a product on Etsy, you have a wide range of ways of getting paid.
Once that money has been paid, your fees are subtracted and you can then withdraw money into your personal account.
This is called Etsy payments.
Your customers can pay for their product in a number of ways, including PayPal, Debit/bank cards, Credit Cards, and Etsy gift cards.
When you sell on Shopify, you can accept payments in just about anyway, shape or form.
This is a massive advantage to you, as there are many parts of the world that are loyal to a specific payment method.
Take, for example, Eastern Europe, where many people prefer to pay via Przelewy24. This isn't an accepted payment method on Etsy, but it is on Shopify.
By offering more payment methods, you open yourself up to a wider range of customers.
Shopify vs Etsy – Fees
The fees for both Shopify vs Etsy aren't easy, but let's put this is the most simple term's possible:
It costs you $0.20 to list a new product for sale on Etsy.
It costs you 3.5% + 3% and $0.25 each time you sell an item.
| Basic Shopify Plan | Shopify Plan | Shopify Advanced plan |
| --- | --- | --- |
| $29 per month + 2.9% and 30¢ per transaction | $79 per month + 2.6% and 30¢ per transaction | $299 per month + 2.4% and 30¢ per transaction |
When you sell on Shopify and accept payment via Shopify payments (their own payment gateway), there are no transaction fees. However, if you accept payments via another method (eg, PayPal), you will be charged 2%, 1% or 0.5% depending on the plan you're on. You still also pay credit card rates on this transaction, too.
Let's look at an example. 
Say you're using Shopify's payment gateway and you're using the 'Shopify' level plan.
You'll be paying $79 per month, with no transaction fees or credit card fees.
We did some math to help you figure out when it's cheaper to sell on Shopify.
With a 3.5% transaction fee, you would have to sell $2,260 worth of products in order to pay $79 (the same amount as a Shopify plan) in fees.
Therefore, if you sell more than $2260 of product a month Shopify is cheaper than Etsy.
Etsy feels a little more simple. With no recurring monthly fee, it is much cheaper and easier to get started selling on Etsy.
While the advantage of Etsy is that it's cheaper to get started, you can see that quite quickly, the Etsy fees add up.
This may not make it easier for you to find your own winner in the Shopify vs Etsy battle!
Exposure and brand notoriety on Etsy vs Shopify
This question is always a tricky one to answer – Will I get more exposure on Shopify or Etsy?
And, surprise surprise, there's no straight answer.
Etsy will give you more traffic immediately. When starting out, you might find people stumble across your Etsy products and you may even get a few sales.
With a Shopify web store though, the traffic will not come unless you build it.
And if you build it correctly, traffic to a Shopify store can far outweigh any traffic Etsy can give you.
By learning more about digital marketing, such as blogging, SEO, influencer marketing and so on, you can drive a lot of engaged and ready to buy traffic to your Shopify store.
When you sell on Shopify, basically anyone who uses Google can be your potential customer.
When you sell on Etsy, the only people who will by from you are people with an Etsy account. Keep in mind though, that Etsy does have 30 million users, and that's nothing to be sneezed at!
What is Etsy Pattern?
Etsy Pattern is Etsy's answer to a standalone web store, by taking your Etsy website and putting another face on it.
Using Etsy Pattern, you can take your products that are listed in your Etsy store and automatically list them in your Etsy Pattern store.
Here's an example of an Etsy Pattern store: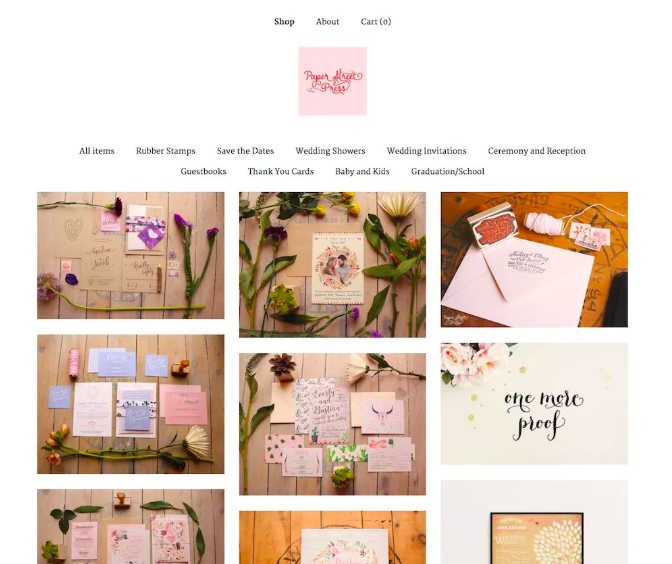 With your Etsy Pattern store, you can customize your layout, color theme and just about everything else. When a customer clicks on a listing though, they will go to your Etsy listing. The checkout process is the same as the one on Etsy.
What's more, you need to pay an extra $15 per month for this, and according to a lot of Etsy pattern reviews, it's really difficult to attach your own domain name. No thanks.
Etsy Pattern vs Shopify is a pretty simple battle in our opinion.
How is Etsy Pattern different to Shopify?
As mentioned earlier, when you sell on Shopify, you can sell anything you like. You play by your own rules.
Want to sell someone else's mass-produced products? You can.
However, if you choose to sell with an Etsy Pattern website, you're still subject to Etsy's rules and regulations.
Again, they can close your store for no reason, with no warning and ban your name from their servers.
Long story short, Etsy Pattern isn't worth the hassle when there are so many other website builders out there!
Selling on both Etsy and Shopify at the same time
Believe it or not, it's not all 'Shopify vs Etsy' in the e-commerce world. Many small businesses make a successful living by operating a Shopify store alongside an Etsy store.

Why?
By doing this, they gather all the engaged traffic from Etsy, yet they can also employ traditional marketing methods to reach their ideal customer who isn't selling on Etsy.
There's a wide range of software available that can automatically synchronize your Shopify inventory into your Etsy store.
The benefit here is that when you get a sale on Etsy, the quantity automatically goes down by one in both your Etsy and Shopify stores.
With Etsy charging you a per-transaction fee too, a very common practice is to send all your Etsy customers a thank you note. In it, they include a discount code that's only valid in their Shopify store.
This means you can take your Etsy customers into your Shopify store and get the up-sell!
Etsy look vs Shopify themes
As mentioned earlier, when you sell on Etsy, you're selling literally under the title of someone else. If you'd like more control over the layout of your website, Etsy will not be too helpful for you here. 
Here is an example of an Etsy storefront:
Note that this is a fantastic Etsy store. The seller is using every possible space for customization. That being said, you as a seller cannot do much more to make an Etsy store more customized.
On the other side of the coin, here is a Shopify store:
And here is another Shopify store: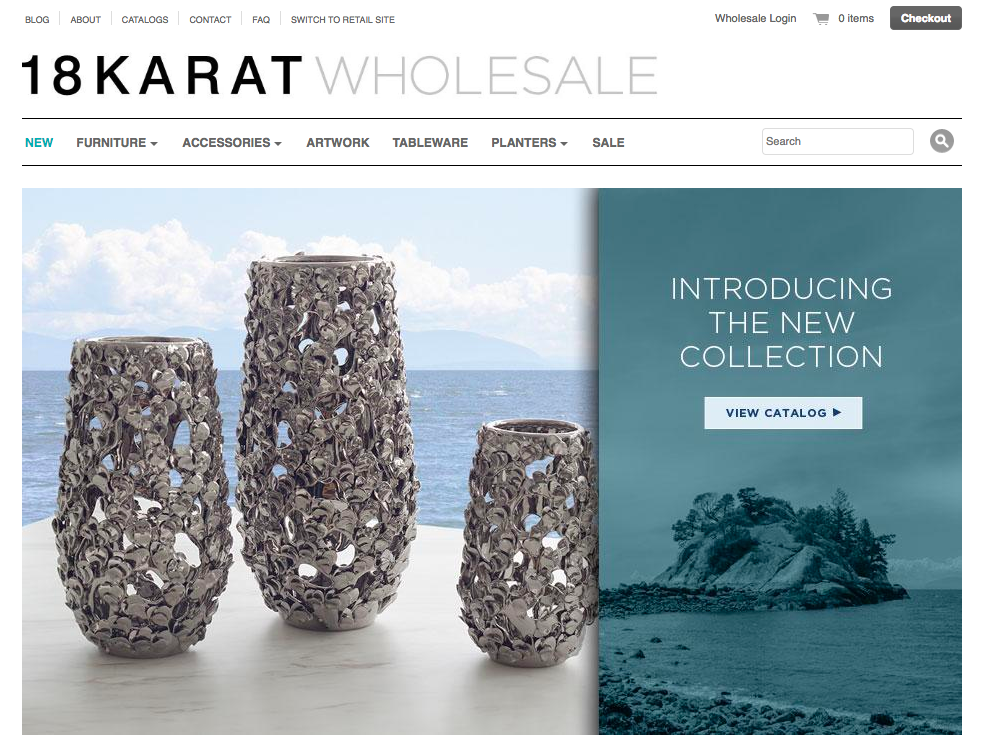 As you can see, you have complete and total control over a Shopify store. You can change colors, images, menus, anything you'd like.
Why?
Because you own a Shopify website.
Sell on Shopify, you will pay for access to their product.
Sell on Etsy, you will pay for access to their customers that trust the Etsy name.
When it comes to levels of customization in the Shopify vs Etsy battle, Shopify wins hands down.
Etsy marketing and Shopify marketing
Marketing your store is where the Shopify vs Etsy battle gets interesting.
An interesting feature of Etsy is that you're able to create Etsy coupons. That is you can create a code that's valid for one or multiple people for a fixed amount or dollar value.
Similarly, you can reduce all products by a certain percentage at the click of a button.
This is a great way to try and quick move some old stock or draw attention to a new product that you've just started selling.
Shopify also has these same features.
It also has many more third-party apps that let you take advantage of more advanced marketing features. Concepts like abandoned cart recovery and Facebook Pixel tracking are features that are available for Shopify users to make the most out of every visitor.
Etsy vs Shopify: Support
We all need a little help sometimes, and both Shopify and Etsy are there for sellers who need it.
Etsy has a dedicated support center that can help just about anyone with any question. There's also a few engaging and supportive communities where you can interact with other Etsy sellers and have your questions answered. The downside is that there's no Etsy phone number if you'd like to talk to a real person for help.
Shopify does, however, offer over the phone support. It also has a thriving community of engaged sellers and ecommerce entrepreneurs that have just about solved every possible question there is to ask regarding selling on Shopify.
Shopify vs Etsy – Who wins?
Sell on Etsy if:
You've never sold online before

You sell mostly unique, one-off or handmade items

You want to see if people will actually buy your product.
Sell on Shopify if you…:
know a thing or two about selling online

have more than a half dozen products, or you buy products to sell from elsewhere

want people to remember your brand's name
As much as you're probably wanting to hear a decisive winner, there's isn't one.
They're two very different creatures that ultimately do a similar thing. 
Like most e-commerce platform comparisons, there's just not one clear winner, Shopify vs Etsy has no one clear winner for everyone.
And the best option for you depends completely on your skill, product, knowledge and how much you're willing to put in.
In conclusion
What do you prefer?
As you saw, there's a big difference between selling on Etsy and selling on Shopify.
On Etsy, you're using someone else's traffic. You're selling on someone else's website. You don't own the sale.
Selling with Shopify means that the sale is yours – you've earned it.
Both have their advantages and disadvantages, but ultimately, Shopify vs Etsy, they're both great ways to get into the world of selling online.
If you're selling on Shopify and would like some one-on-one help and guidance, get in contact with us and we can help guide you not just through Etsy or Shopify, but the bigger world of e-commerce!
If you don't already have a Shopify store and need help with getting it professionally set up, we can also help you with that!