Disclosure: Some of the links below are affiliate links, meaning, at no additional cost to you, Storehacks may earn a commission if you click a link to an external source.
When you're looking at building a website, you obviously want to use the best. But how do you find the best ecommerce website builder?
Wait what even is the definition of the 'best'?
Chances are that you don't want to try just the one online store builder.
You don't want to, nor should you, commit to just one ecommerce website builder, only to realise there are better options out there.
So, to find the best online storefront builder for you, ask yourself a few questions:
How experienced am I?

What am I selling and in what way am I selling it?

What exactly do I want to achieve?
What's best for you will depend on your experience.
If you're selling handmade shoes, your best ecommerce website builder is going to be different to someone that's dropshipping on Oberlo.
What's best for you will differ if you're making 10 sales a month, or 10k sales.
You'll also get more out of your online store builder if you know the state of ecommerce today.
If you know the best marketing methods and how to drive traffic to your store, you can take advantage of some more complex and advanced features of these builders.
Long story short, you decide what's best.
Now you know what you need, take a look at this table to get a quick overview:
| QUICK VIEW | Pricing | Themes | Ease of use | Support | Total |
| --- | --- | --- | --- | --- | --- |
| Shopify | 3 | 7 | 8 | 9 | 27/40 |
| WooCommerce | 10 | 9 | 4 | 3 | 26/40 |
| Shoplo | 7 | 5 | 6 | 6 | 22/40 |
| 3dcart | 4 | 5 | 8 | 9 | 26/40 |
| Ecwid | 5 | 6 | 6 | 6 | 22/40 |
| Magento | 10 | 7 | 5 | 3 | 25/40 |
| Wix | 7 | 4 | 4 | 6 | 21/40 |
| BigCommerce | 2 | 8 | 9 | 7 | 26/40 |
This isn't one of those 'top 10' Youtube videos where we start at 10 and count backward, so let's start from the top – the best of the best online store builders:
Shopify: The best ecommerce website builder today
Shopify needs no introduction. It is the go-to ecommerce platform solution for so many people getting into the world of ecommerce today and is the foundation for its own little culture – Shopify Success Stories.
Why?
It's a young company that has grown alongside the ecommerce industry. The product's features have somewhat dictated the industry which has led to it having some of the most advanced features come as standard.
It's no surprise that there are a staggering number of Shopify alternatives out there.
Simple, quick to set up and incredibly easy to use daily, Shopify is our pick for the best ecommerce website builder.
Plans are hosted, you can build your own online store any way you want and you can list an unlimited number of products. Features and themes are endless.
Shopify features
As a completely hosted ecommerce platform, you don't have to do any setup. This itself is a massive advantage and makes it the best ecommerce website builder compared to self-hosted ecommerce builders.
Once you are set up, you can accept payments through a plethora of services – PayPal, Stripe, BitCoin, or even Shopify's own 'Shopify Payments'.
A stunning number of themes let you build your store e.x.a.c.t.l.y as you want it to be. Create discount coupons, invoices and integrate with nearly every Social Media platform out there.
Shopify pricing
Pricing may be Shopify's only downside to the best ecommerce website builder out there. 
It's expensive.
The Basic Shopify plan starts at $29 per month + 2.9% and $0.30 per transaction.
Transaction fees get lower as the monthly price (and access to features) increases. The Shopify plan costs $79 per month and Enterprise plan comes in at a hefty $299.
While this is expensive, remember that fee included 99.9% of everything you need to sell online! Be sure to budget correctly if you're to use Shopify, the best ecommerce website builder in our eyes!
Shopify themes
Shopify's simple builder tool makes it easier for you to create your online store just as you want it.
As the best ecommerce website builder, you have access to hundreds of free themes. Customize one, or you can use a paid theme and have even more ways to personalise your store.
Straight off the bat, all themes are attractive and user-friendly. What's more, it doesn't take to much customization to get your web store echoing your business branding. 
Shopify: Easy of use
Shopify is the easiest way to build a store, period.
Its a matter of entering your email address, store name and a few other specifics about your brand and then you're ready to go.
The customization can be a little overwhelming as there's so much that you can do, but if you know how to add a picture to Facebook, you'll be able to use Shopify.
Shopify support
Each Shopify plan includes access to 24/7 support channels via email, live chat or phone. Shopify's support staff are also knowledgeable about the basics of running an online store, too.
| Why it's great | Why it's not |
| --- | --- |
| Works first time, every time | Darn expensive |
| Feature rich, no need to spend money elsewhere | No access to the code for extra personalisation |
| Quick, reliable and easy to use on a daily basis | |
WooCommerce: The online store builder
WooCommerce is a great free online store builder.
That's right, free online store builder.
But there's a catch (there always is).
Unlike most all of the other ecommerce solutions listed in this article, WooCommerce and WordPress are not hosted.
If you decide to use WooCommerce, you'll be responsible for buying hosting, a domain name, security and backups yourself.
The plus side to this is that you have complete granular control over nearly every aspect of your ecommerce store.
WordPress, the parent company of WooCommerce is responsible for 30% of all websites. That surely has to make WooCommerce one of the most used and best ecommerce website builders!
That being said, WooCommerce might not be the best ecommerce website builder if you're completely new to building an online store.
However, if you do decide to use WordPress and the ecommerce plugin, WooCommerce, it'll be completely free and you'll enjoy incredible levels of customization.
WooCommerce pricing
$0. WordPress and WooCommerce are free for you to build an ecommerce store but you need to pay for a domain and hosting yourself. 
WooCommerce themes
Access to thousands of free themes and incredible numbers of paid (and stunning) themes.
WooCommerce: ease of use
Set up of WordPress is quite involved. Installing WooCommerce is easy and building an ecommerce website with WooCommerce is simple.
WooCommerce Support
WooCommerce support is non-existent.
There are helpful tutorials that you can reference, as well as support forums, but no phone call or email address. You can find an answer to 99.99% of problems online, though.
This best ecommerce website builder has a very hardcore group of advocates!
| Why it's great | Why it's not |
| --- | --- |
| Staggering levels of customisation | Self-hosted = lengthy & complex set up times |
| Insane number of plugins for just about everything | You're responsible for security, backups & downtime |
| Versatility and integrations for days | No dedicated support channels |
Shoplo: the online store builder you've never heard of
Shoplo is a relatively unknown ecommerce store builder. It's a versatile, innovative and easy website builder that deserves a lot more attention than it gets.
Why?
It includes many of the features that expensive solutions like Shopify and WooCommerce offer, but at a fraction of the price.

What's more, it's significantly cheaper than many of the hosted options on this list!
Features like abandoned cart emails, discount codes and invoices are all stock standard. Accepting PayPal and Stripe payments is normal, as is integrating with Facebook, eBay, and many other sales channels.
If your budget and experience are low, Shoplo may be the best ecommerce website builder for you.
Here's a fine example of a Shoplo webstore: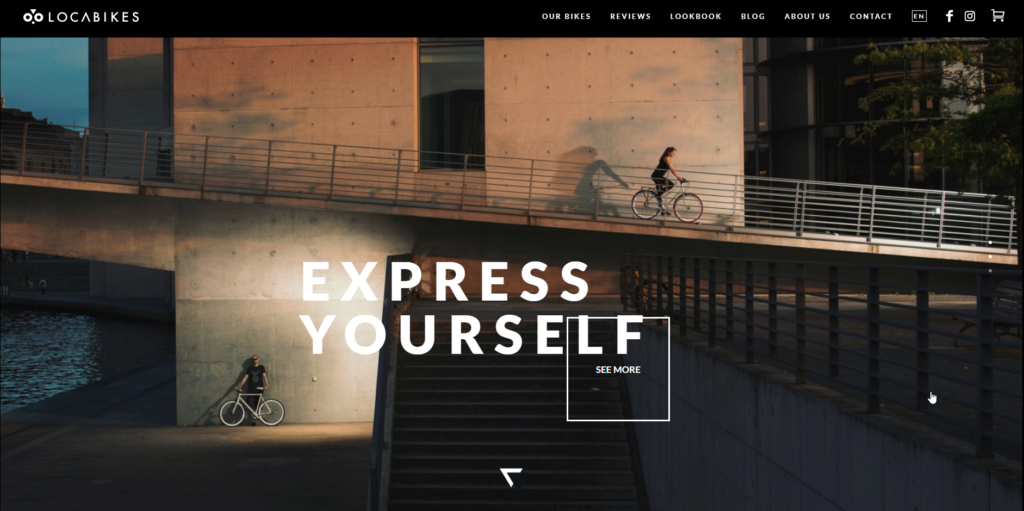 Shoplo features
Shoplo is an ecommerce builder that makes it easy for you to sell online, no matter where you are already selling.
You can export a product feed to list your inventory on Google Shopping, Amazon, eBay and even WooCommerce and Shopify stores.
You're able to expand your brand into other parts of the world easily with simple language versions of your story, as well as multiple currency versions.
Shoplo pricing
Shoplo pricing starts at $12 per month for the starter plan and increases with access to other features for $25, $45 and $75 per month respectively. 
Shoplo themes
Like most hosted platforms, Shoplo gives you access to a wide range of professionally designed themes.
The ecommerce theme builder is a unique and powerful tool that lets you drag and drop each element of your store where you want it to be.
Change the layout of a menu or footer with a simple click. All themes are optimized for both mobile devices and desktop.
Shoplo: ease of use
Shoplo is one of the easier ecommerce website builders, no doubt about that.
Setting up your store, adding products and day to day management is easy.
Use of the more advanced features like Product Feeds and SEO make things a little more complicated. As you grow though, the best ecommerce website builder will grow with you – and Shoplo does just that.
Shoplo support
Shoplo has an extensive knowledge base where users can find out just about anything they need to know about using the platform.
There is a support team that's fluent in a half-dozen languages so they're bound to speak your language. A good team = the best ecommerce website builder.
| Why it's great | Why it's not |
| --- | --- |
| Big features, small pricetag | Standard features are a little lacking |
| Easy to setup & use every day | |
| Integrates with a wide range of marketplaces | |
3dcart: The all in one builder
3dcart hasn't really made too many waves in the ecommerce builder world, but I'm not exactly sure why.
It's a well-made tool with plenty of features and, as the company themselves say, they're an all in one solution.
The story behind the 3dcart name is quite interesting. It comes from the 3 'things' that their platform tries to please:
Store owners – Because they're the main customer
Search Engines – Because Ecommerce SEO is a really powerful thing
Shoppers – Because these people use the platform more than the owner
The 3dcart platform certain does it's best to help all 3 of these parties.
The platform is really well made and has a wide range of tools to help you with, what they call, the 4 stages of selling online:
Reach
Engage
Convert
Nurture
But how do they stack up to the other platforms?
WooCommerce pricing
3dcart have 4 pricing plans:
Startup: $6.33 per month
Basic: $9.66 per month
Plus: $26.33 per month
Pro: $76.33 per month
According to the pricing page,  the only major difference between these plans is the number of users and email addresses that can be associated with your store.
Upon diving deeper, you see that on lower plans, you don't get access to features like the 3dcart CRM, product comparison, 'make an offer' and abandoned cart features. You also receive more immediate support when you're on a higher plan.
3dcart themes
Straight off the bat, 3dcart themes are various, eye-catching and most are free. Only a handful carry a $199 price tag. Each of them is also optimized for mobile, too. 
3dcart: ease of use
As you can see below, there's nothing overly alien about using 3dcart.
After entering my name, email and phone number, I was asked a few simple questions.
After that, this is what I was greeted with. Simple navigation on the left and the main work at hand in the middle of the screen.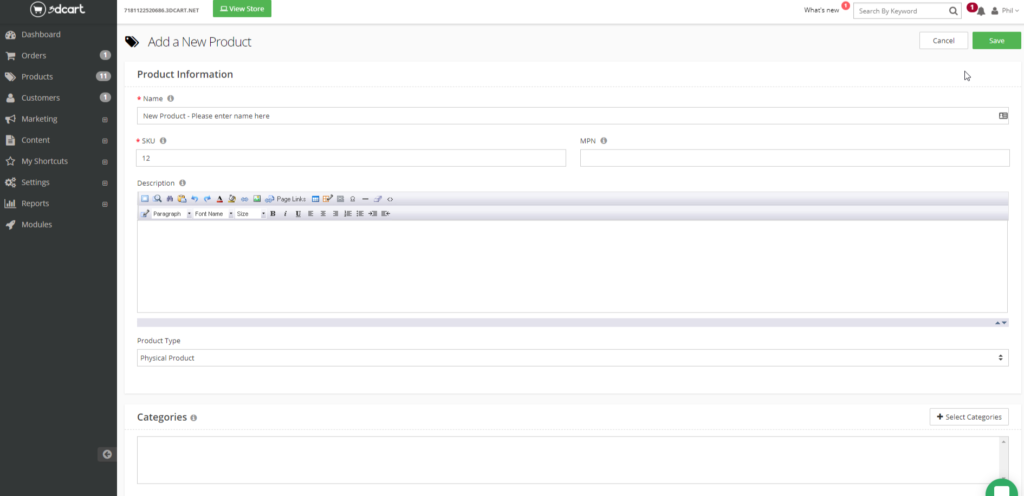 The 'add product' screen is a little more comprehensive than other ecommerce platforms. That being said, everything that you need to add a product is here on the one screen. This streamlines the burden of manually adding products, especially if you're just starting out.
3dcart Support
As mentioned in the pricing section, your level of support increases the higher the plan you select.
Regardless of the plan you're on though, support is available in one way or another 24/7. Firstly, there's a chat feature that, at the very least, helps you locating documentation that may solve your problem.
| Why it's great | Why it's not |
| --- | --- |
| Very thorough customer service | No mobile app for selling on the go |
| Feature rich all over | |
Ecwid
Ecwid is a lot like everyone else on this list, but there's one (fantastic) thing that sets them apart.
They're an ecommerce platform builder, yes, but the platform is aimed at those who already have an existing website.
While BigCommerce, WooCommerce and Shopify let your build an ecommerce store from scratch, Ecwid is for those who already have a website, but want to add a web store and shopping cart function to that website.
So while Ecwid is an ecommerce website builder, it does so in more of a 'widget' kind of way – hence the name, Ecwid – Ecommerce Widget.
Copy some HTML code and paste it into your existing site, and you have your storefront and secure checkout.
With over 1 million customers in over 175 countries, there's clearly a lot of demand for such a creature! Let's take a look at why that is:
Ecwid features
Since Ecwid is more of a widget, you'd expect the features to be a little less than a complete ecommerce builder – and you'd be wrong. 
Ecwid gives you access to POS (point of sale) technology. Are you selling online, as well as in a store, or perhaps a weekly market?
Use the Ecwid point-of-sale system to accept payments on the go and sync your products, sales and customers with your online inventory.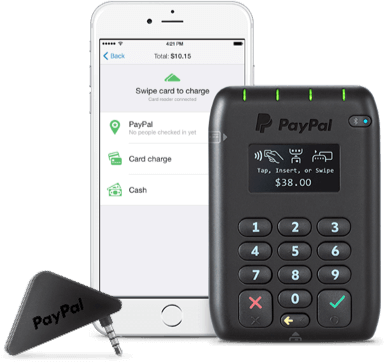 One of Ecwid's most impressive features is language detection.
Translate your store into nearly 50 languages, and Ecwid technology will automatically detect the region your customer is in and show your store in their local language. 
Other standard features include:
Free SSL certificates
Social media integration
Customer management
Real-time shipping calculator (based on customer's IP address)
Turn your online store into a mobile app
Payment gateways are some of the most important features of an online storefront. EcWid accepts a wide range of payment gateways, over 50 actually, for accepting credit card payments.
This is great for you as you can sell to parts of the world that have a specific payment gateway preference.
Ecwid pricing
Ecwid, like most of the best ecommerce website builders, comes with a free version. But, just like all those same ecommerce builders, the features of the free version are quite limited.
Paid plans are as follows:
$15/month ($12.50 if paid annually) – Venture plan – sell up to 100 products
$35/month ($29.17 if paid annually) –  Business plan – sell up to 2500;
$99/ month ($82.50 if paid annually) – Unlimited plan – sell an unlimited number of products
As mentioned earlier, with a higher plan comes more features, such as:
Edit existing orders and manually create orders on the Business and Unlimited plans
Free consultation time on the Unlimited plan
Customisable invoices and integrations with Google Shopping on the Business and Unlimited plan
Automatic abandoned cart recovery emails on the Business and Unlimited plans
Ecwid: ease of use
The dashboard of Ecwid is quite intuitive and easy to use. There's no need to consult a manual or help desk to get your bearings and figure out how the platform works. It'll take time, but it's not a frustrating, draining process.
Here's an example of a store made with Ecwid: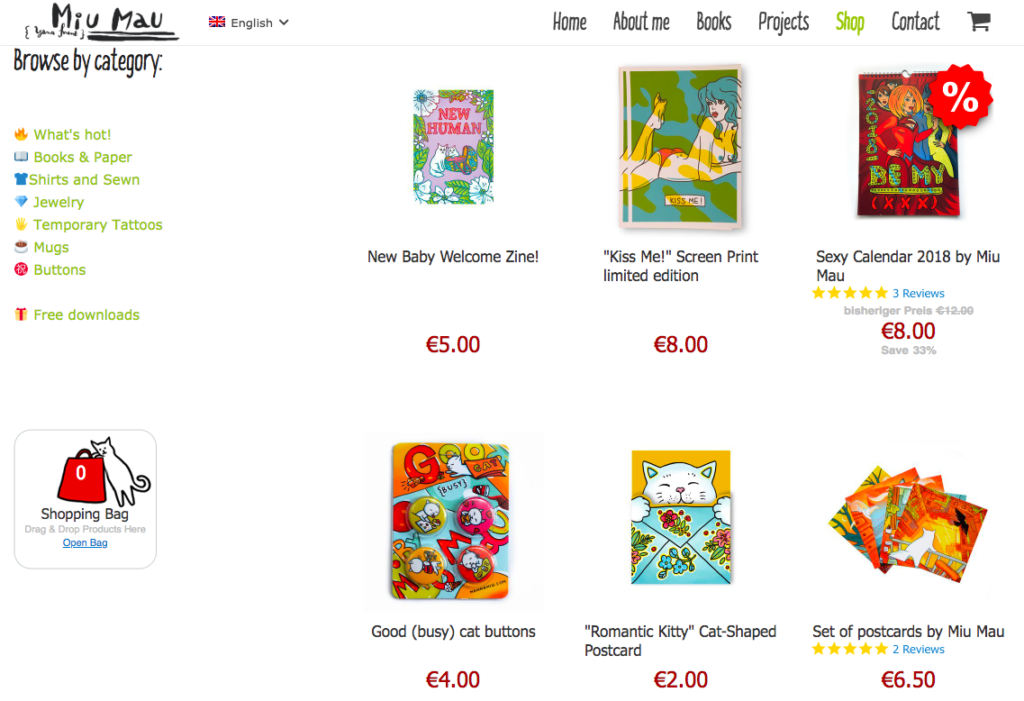 One fantastic feature that the Ecwid team give you is an onboarding checklist – simply put, it's a checklist of features that you need to check out to get your head around how to use the platform.
Ecwid support
If, of course, it's a little too tricky for you and you need a hand, Ecwid has an extensive range of support materials to help you out.
On the free plan, you have support via email. The Venture plan gives you access to email as well as live chat support features. Business and Unlimited users can make the most of email, Live Chat and phone support.
Ecwid is best for you if you've already got a website but would like to add a checkout and shopping cart function to it.
It doesn't have the 'all in one' solutions like Shopify or BigCommerce, but it isn't as complex as those creatures either.
It's a different creature for a different kind of ecommerce entrepreneur.
| Why it's great | Why it's not |
| --- | --- |
| An easy way to turn any site into a store | Not the best for high-volume sellers |
| POS functionality for offline sales | Support quite limited |
| Multi-language functionality | Free version has little SEO features |
Magento: The big boy of ecommerce builders
Magento is one of the most flexible and best ecommerce website builders we've looked at.
It's an online store builder that's been adopted by a massive business moving millions of units or a home-office operation.
Small-scale enterprises have access to a free version of the Magento ecommerce builder with a wide range of features. There are many free open source online store builders out there, not with the flexibility and variety of Magento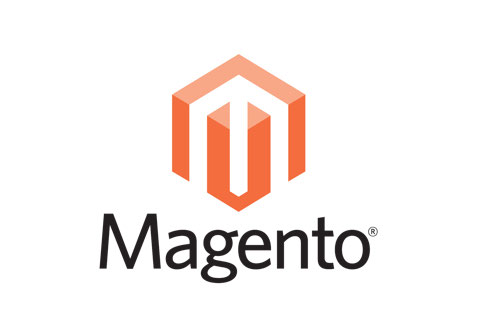 Magento features
Magento is one of the best ecommerce website builders as it has a wide range of important features.
As open source online storefront builder, most of the features come by the way of add-ons, plug-ins, and extensions. This is a benefit as you can pick and choose the best options for your business.
Magento pricing
As mentioned earlier, Magento is a free online store builder. As open source software, there are no fees.
Magento themes
Just like every other option on this list, there are a wide number of free and paid themes for you to choose from.
Most themes are optimized for mobile and are easy to navigate.
What's interesting is that many themes also carry over into the cart area.
Luckily, most of the cart and check out designs are simple and smooth so your customers won't be distracted or confused. 
Little details like this are what make Magento one of the best online storefront builders!
Magento: ease of use
Magento isn't for the faint of heart. It's an ecommerce builder that's best suited to experienced entrepreneurs or brand managers.
Like WooCommerce, setup is difficult as it is self-hosted. However, day to day operations is quite simple.
Magento support
Magento has a knowledge base that's full of handy information.
It does not have a phone or email support center.
It does, however, have a handful of third-party companies, or 'solution partners' that can help you out with the platform. For one of the best ecommerce website builders, the support can't help but feel a little lacking. 
| Why it's great | Why it's not |
| --- | --- |
| Incredibly customisable | No official support |
| Completely free | Self-hosted = complexities |
| Useable by all sizes of business | |
Wix: The original ecommerce builder
Wix has been around since 2006 and in that time, it's built over 120 users in 190 countries. 
The platform is aimed toward entry-level entrepreneurs, wanting a user-friendly experience to build their first ecommerce site.
Wix makes it easy to build an online shop as it's fully hosted, meaning that unlike WordPress, you don't need to set up hosting or anything like that.
Users simply sign up, add products, pick a design and then your product is just about ready to sell!
Wix features
Wix is a very versatile platform, that's for sure.
Whether you're selling a single product, like your own book, or a wide range of products with many variants, Wix can cater to your needs.
There are a wide range of plugins and extensions that can take care of simple things, like email marketing, or more complex things.
Some of our favourite apps in the Wix App Store include:
Web-stat – great for instant and real-time analytics of traffic.
Events Calendar – A simple way t show off events on your homepage.
Sell downloads – A simple way to sell downloadable products online.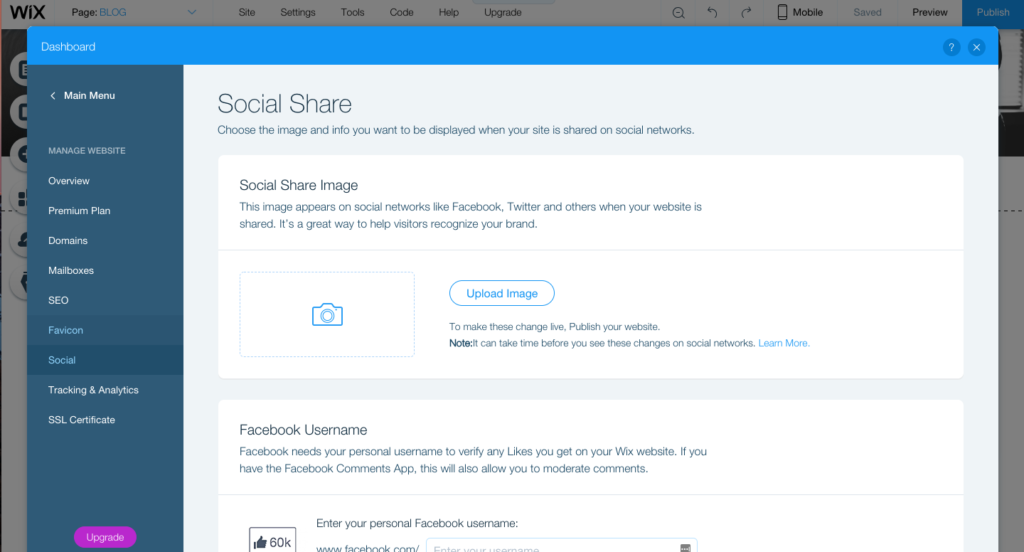 While there are dozens of Wix apps available for the free version, you will have access to more apps if you decide to use a paid version of Wix. 
Wix pricing
Wix pricing, like most hosted online store builders, comes in different levels.
Connect Domain
Combo
Unlimited
Ecommerce
VIP
-1GB bandwidth
-500MB of storage
-Connect your own domain name.
Wix places ads on your site
$4.50USD /month
-2GB bandwidth
-3GB of storage
-Free domain & no advertising
$8.50USD /month
-Unlimited bandwidth
-10GB of storage
-2 free apps
$12.50USD /month
-Unlimited bandwidth
-10GB of storage
-2 free apps
-Secure payment gateway
$16.50USD /month
-Unlimited bandwidth
-10GB of storage
-2 free apps
-Secure payment gateway
-Email marketing
-Professional website review
$24.50USD /month
Wix themes
Wix comes standard with over 70 ready to use themes. Each theme can be edited and rearranged as you please.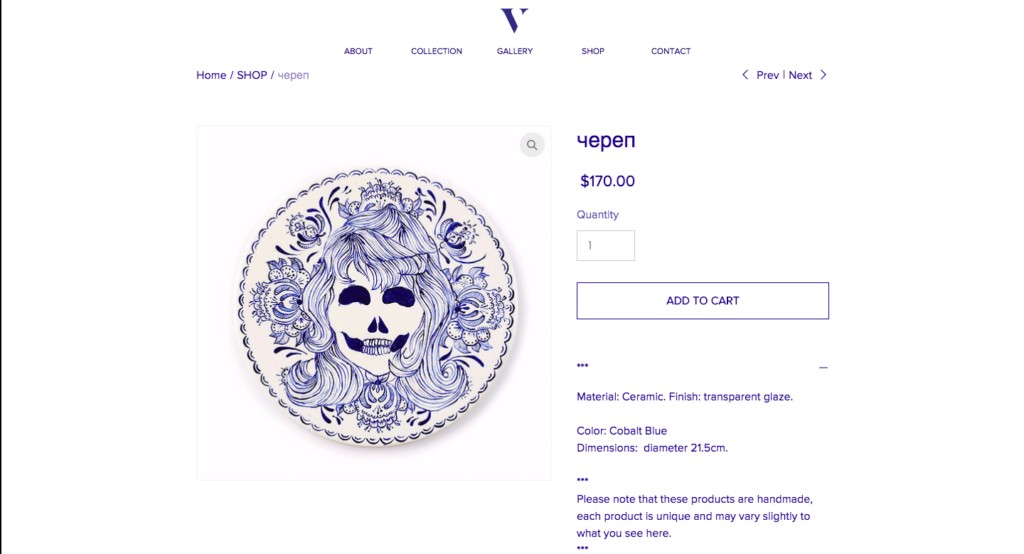 All Wix themes are mobile friendly, and you're also about to create one-page themes, very similar to landing pages.
Wix: ease of use
The main control panel of Wix is easy to navigate. Adding and managing new products is a straightforward task.
Managing Social Media and email marketing are also easy, thanks to the user-friendly design.
When you're creating the design of your Wix online store, you'll use the Wix editor. This drag and drop tool makes it easier for you to get your store looking exactly as you'd like to look, too.
If you're not design-minded or simply want to start with something simple, the Wix ADI is a great ecommerce tool. 
The Wix ADI is a simple setup wizard that will get your store looking pretty darn good automatically.
Wix support
While Wix does have a free plan, that plan doesn't have access to support. Once you're on a paid plan, you'll have access to Wix by email and access to their support documentation.
All in all, Wix is a great entry0level option for those new to ecommerce and selling online.
| Why it's great | Why it's not |
| --- | --- |
| Works straight out of the box | Limited access to extra features |
| Great looking user interface | Not the best value considering other competitors |
| makes designing a web store very simple | |
BigCommerce: an ecommerce website builder for SME's
BigCommerce has been around for a while but has really found it's own in the last few years.

The platform is aimed at businesses that already have an established online presence and a wide inventory to manage.
With more complex tools and access to advanced features, the BigCommerce ecommerce builder makes things like automation and inventory management much simpler. 
BigCommerce is much more than a basic shopping cart feature.
If you're a small, single-operator-home-office business, or a massive brand moving millions of dollars, BigCommerce may be your best ecommerce store builder. 
BigCommerce features
As BigCommerce is geared towards users who know what they're doing, there are many features you can use. 
Simple migration from other ecommerce platforms
Integrate with the popular and region-specific payment gateways
Above average SEO control.
Just like Shopify, BigCommerce users have access to apps – both third-party made and official BigCommerce apps. Some apps have a 'freemium' version, that once paid, give you access to a wider range of features.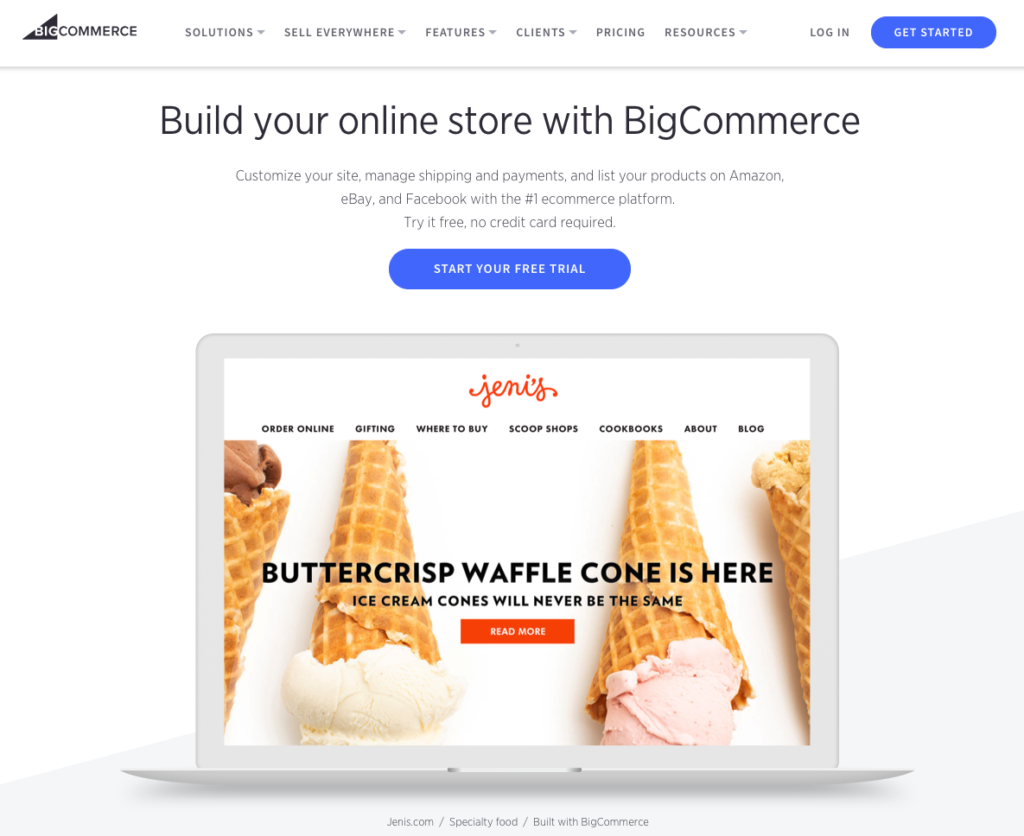 Some of these apps include multichannel inventory management, product reviews and social media automation. 
BigCommerce pricing
BigCommerce is a feature-rich ecommerce platform, designed for those who are already established brands.
Because of these reasons, BigCommerce isn't the cheapest option. 
Standard – $29.95/month – Access to everything you need to start a store.
Plus – $79.95/month – Same as standard, including optimised conversion and customer management.
Pro – $249.95/month – Streamlined for high-volume selling
BigCommerce themes
BigCommerce has some of the best-looking web store themes out there. What's more, they also very versatile which nearly every element being customisable.
BigCommerce themselves haven't developed too many themes, but instead, leave it to a third-party company to create the themes. There are only a total of 7 BigCommerce themes available though.
Some users have said that the lack of a 'Sandbox and development area' (somewhere you can design your theme before going live) is very frustrating on such a large-scale ecommerce builder.
The BigCommerce theme builder is one of the few ecommerce theme builders that allows you to switch to the mobile theme and edit it.
BigCommerce: ease of use
As a major ecommerce builder, BigCommerce knows the importance of a good user interface.
The surface is easy to navigate, and only a few hours of research is needed to learn how to use the tool in its entirety.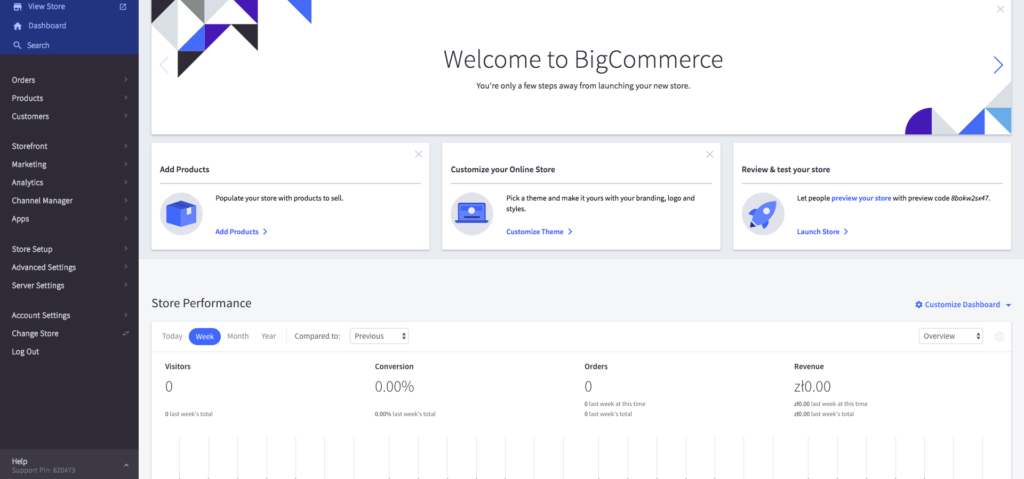 Common sense navigation and the ease of configuration is a major upside.
Some BigCommerce users find the lack of theme customisations quite frustrating, and the lack of a mobile app is also a major grievance.
BigCommerce support
The BigCommerce client success team know the importance of good support. If you do run into a problem, 24/7 support is available via:
Live Chat
Phone
Email
'BigCommerce University' – free ecommerce lessons.
| Why it's great | Why it's not |
| --- | --- |
| Lots of very basic features | Expensive if you're scaling |
| Great for those with ecommerce experience | High-end features can get expensive |
| Fantastic looking website | No mobile app |
What's your best ecommerce website builder?
There you have our best ecommerce platform website builders.
You saw all these online store builders put head to head in a completely, unbias manner. Some are simple to use, others are free. Some have insane levels of customization, some are pretty vanilla.
A vanilla online store builder might be what your brand needs.
On the other hand, money may not be a factor for you.
The main thing that you take from this article is that the best ecommerce website builder is different to what's best for the next person.
We encourage you to try as many online store builders as possible, read as much content as you can able each ecommerce platform.
Go out there, ready to try and experiment.
Over to you – what's your favourite ecommerce platform?
Let us know in the comments!