Disclosure: Some of the links below are affiliate links, meaning, at no additional cost to you, Storehacks may earn a commission if you click a link to an external source.
BigCommerce is known for being one of the function e-commerce platforms out there. Shopify is the go-to solution for just about any e-commerce situation. But when they're put head to head, BigCommerce vs Shopify, who comes out on top?
If you're looking for the best e-commerce platform to start your drop shipping or traditional e-commerce store, you may have come across these names.
And, with good reason. They're both massive players in the e-commerce industry. Both have their strengths and weaknesses.
But Shopify or BigCommerce, what's best for you and your brand?
Well,  that's exactly what we'll address today.
In this article, you'll see:
Ultimately, the best decision for you depends entirely on you. Here, we will put BigCommerce and Shopify head-to-head, but that doesn't mean our winner is best for you.
It's worth noting that there is a wide range of ecommerce platforms similar to Shopify or BigCommerce out there.
If you're interested in trying WooCommerce, read the article: WooCommerce vs Shopify: Who really is the best ecommerce platform in 2018? [Read now]
Assess what you learn here today about and then decide if Shopify or BigCommerce is best for you. Use this information to guide your decision, don't let us make the decision for you!
We're here to compare BigCommerce and Shopify, so let's start with exactly what they both do.
Big Commerce vs Shopify – What are they?
How does Shopify work?
Shopify is one of, if not the biggest name in the e-commerce industry. It's an all-in-one solution that you use to build an e-commerce store from scratch, with zero coding experience or web site building skills.
Shopify can be used by anyone, no matter their skill level as it works straight out of the box.
If you want to do things yourself or you don't want to hire someone to build the site for you, Shopify is for you.
Straight out of the box, Shopify gives you:
Your own sub-domain (storehacks.myshopify.com)

Space to host your website and files

Inventory and order management

A secure online checkout facility

Customer database and ways to interact with them

Discount codes & coupons

Detailed sales and traffic reports
Another benefit of Shopify is its versatility.
As it is one of the most popular e-commerce solutions, thousands of developers work alongside the company developing third-party apps, like abandoned cart recovery, social media integrations and drop shipping add-ons.
Shopify basically saves you a boatload of work. It speeds up mundane processes, if not automating them entirely.
But if we're looking at BigCommerce vs Shopify, we need to look at BigCommerce, too!
How does BigCommerce work?
Similar to Shopify, WooCommerce, Wix and others, BigCommerce is an out-of-the-box solution for building an online store.
It also helps you manages sales, customers and your inventory from the one place and helps you with other aspects like marketing and order fulfilment.
It's aimed at brands who already have an online presence, perhaps a store. In fact, many BigCommerce users migrated to BigCommerce from another platform.
Why?
BigCommerce is a little more 'advanced' than other Shopify alternatives. That's not to say you need to know a whole lot of coding to use BigCommerce, but the built-in features are a lot more involving.
One such feature is SEO.
SEO is a way of optimising your web pages so that your pages place higher in a search result.
This results in more traffic and, with a little conversion rate optimisation, more sales.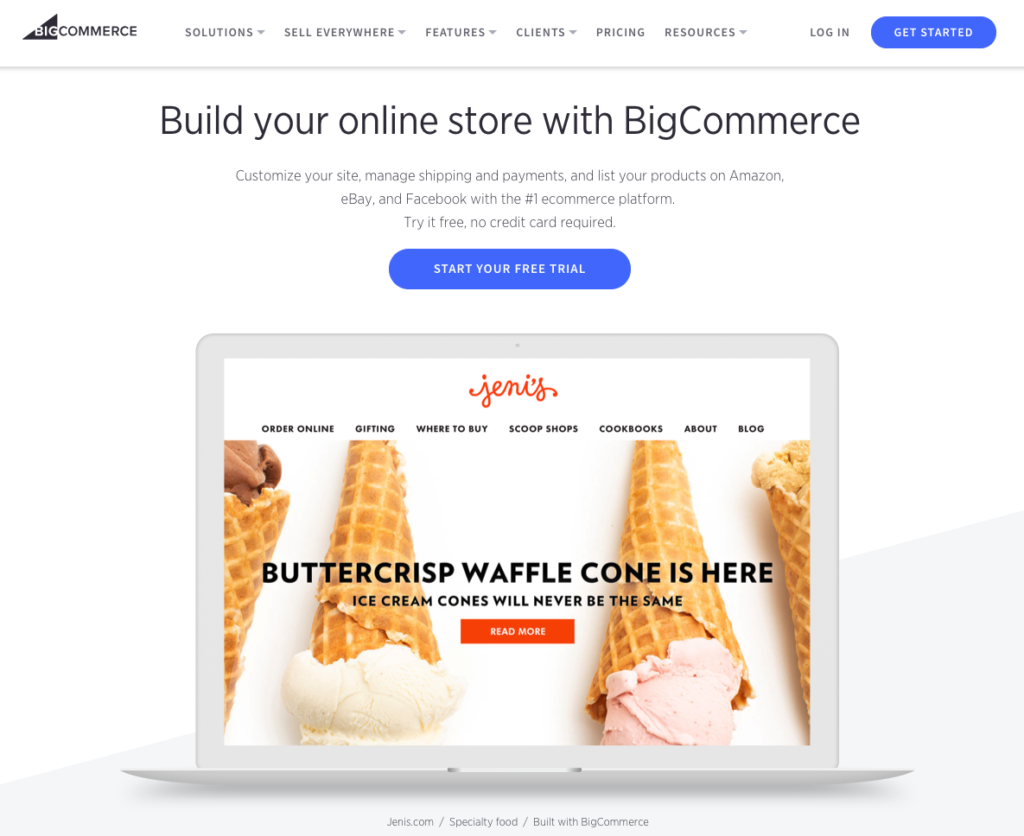 It's a complicated and somewhat delicate process, but BigCommerce tools give you more control over SEO. But this is something we will go into detail with later.
All in all, BigCommerce is gear towards established brands.
Which it's still usable by first-timers, it may be a little daunting. You'll be a more successful  BigCommerce user if you already have a loyal following and are looking to use a platform that can handle higher volumes of both traffic and sales.
With BigCommerce being aimed at established brands and Shopify aimed at beginners, the price may be the next question you have.
So in terms of pricing, Shopify vs BigCommerce, who comes out on top?
BigCommerce vs Shopify – Pricing & Plans
Both Shopify and BigCommerce are actually quite affordable, all things considered. There is some difference between the two players, though.
Shopify pricing
Shopify monthly costs are abundant.
$9, $29, $79, or $179 per month.
As you can see, Shopify pricing can escalate quite quickly.
Using Shopify's most popular plan, the Basic plan for $29, you get features like:
Unlimited products

Your own secure checkout facility

Integration with Social media (Twitter, Facebook & Pinterest)

Access to Shopify's POS (Point of Sale) equipment & software

24/7/365 support
Shopify also charges you a transaction fee, as well as a Credit Card fee.
On the Shopify basic plan, you are charged 2.9% +$0.30 for the credit card fee.
If you use another payment processor at the checkout, you're also slugged with a 2% transaction fee. This is seen as one of the few downsides about selling on Shopify.
How much does Shopify cost per month
How much is Shopify?
$29 per month.
Using the Shopify Basic plan, you will be charged $29 per month.
If your most popular product costs $10, you will also be charged 2% if you are paid via PayPal, Stripe or any of the other payment gateways Shopify integrates with.
Therefore each product you sell will incur a fee of $0.20.
To make back your $29 Shopify fee, you will then need to sell at least 3 products to break even.
That might not be hard for some, but it may prove difficult for others!
BigCommerce Price
BigCommerce pricing plans also come in at different levels.
$30, $80 or $200 per month.
Like Shopify, BigCommerce also has it's pricing downsides. For each plan, you're limited to selling a certain amount annually. $50,000, $125,000 and $1 million, respectively.
On the most competitive BigCommerce pricing plan, the $30 plan, you can take advantage of features like:
Infinite products, storage and bandwidth

24/7/365 support

Coupons and discount codes

Advanced sales and marketing reports

SSL certificates
BigCommerce fees are much easier to understand than Shopify.
You'll incur the same credit card and external payment gateway fees with BigCommerce as Shopify, but not the transaction fee. 
Ultimately, both products are expenses, but they are necessary expenses.
Shopify is known for being 'expensive'. Shopify fees add up very quickly and can hurt your back pocket if you don't track your cash flow closely.
If there are features that you don't need, don't hesitate to go with the cheaper option. If there are some features included in the higher plans that you need, go with that.
Shopify or BigCommerce need to work with your back pocket at the same level that you work with them.
At the end of the day, both the $29 and $30 options provide good value for money.
Now that you know how much you'll be paying, let's take a look at what you can actually do with BigCommerce and Shopify features.
BigCommerce vs Shopify – Features
Having your online store to take your brand to the world is all well and good, but managing it is essential.
Your products, sales, customers and marketing all need specific time and attention in order for you to be seen by more customers and sell more products.
Both BigCommerce and Shopify have an arsenal of tools that you can use to do that. Let's take a look at how they do this:
Shopify Features
Shopify comes with all the basic tools needed to manage your online inventory, sales and customers. You also get a secure checkout facility.
Upload product images and automatically resize and optimise them with the photo uploader.
You can then enter product-specific details, like size, weight, quantity and physical dimensions, to help with postage.
If you're selling elsewhere, you can import products from a CSV file, or automatically synchronise your Shopify inventory with eBay or Magento.
You can create and manage a blog which is great for marketing, as well as other pages like a policy page and 'about us' page.
Shopify also has a huge amount more than it can do, using third-party apps.
Using the Shopify App store, you can find an app that can automate a process, or create a new process altogether.
Some example of what third-party Shopify apps let you do:
Product reviews and recommendations

Customer wishlist

Email marketing integration

Fraud protection

Product Upsells
Want to learn more about some of the best Shopify apps out there? Read the following article:
The Top 13 Best Shopify Apps You Need to Install in 2018 [read now]
BigCommerce Features
BigCommerce comes out of the box with a mind-blowing number of tools and features for your online store.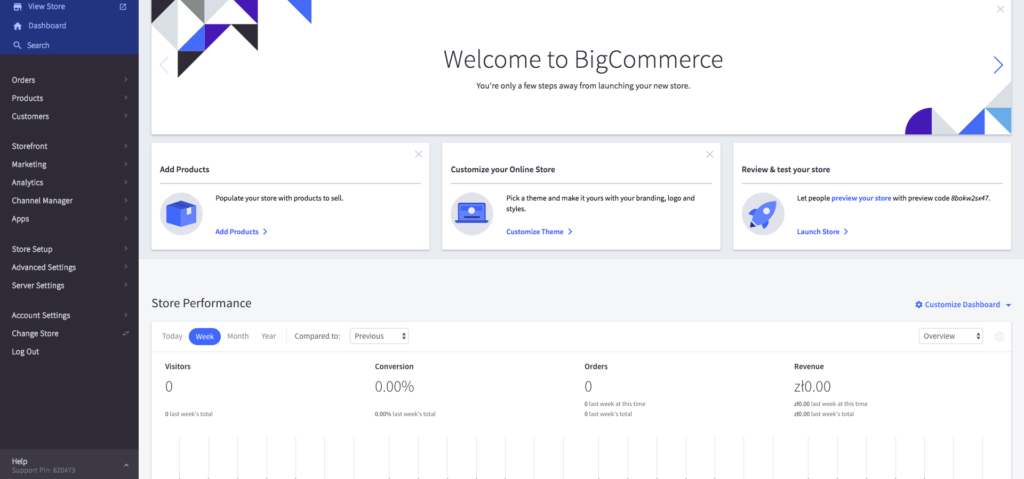 As well as the standard Shopify features, you get:
Access to advanced SEO features

Abandoned cart recovery

Faceted search

Integration with Amazon
While these extra features may not seem like a whole lot, to a brand that's already up and running, this can be very enticing.
Especially when you get this for a whole $1 more than Shopify.
Both BigCommerce and Shopify provide you with what you need to sell online.
But BigCommerce offers a little more than Shopify, for what is essentially the same price.
BigCommerce vs Shopify – Templates & Themes
Shopify has the slightest of advantages over BigCommerce in terms of free themes.
Why?
Sheer numbers. Shopify offers 10 free themes while BigCommerce has 7 to chose from.
That's not to say that there are only 10 vs 7 ways for you to design your web store, not at all. Each theme for both BigCommerce and Shopify give you different layouts and styles to choose from.
Another reason that Shopify's themes come out on top is that each free theme is more different than the last.
They're more varied and allow you to move and change more elements.
If you're a newbie and like things like the drag-drop method of building, BigCommerce is for you.
Shopify stores don't offer this feature, but BigCommerce has an easy to use drag-drop feature which means you can easily build your online store.
Looking a little deeper at customisation, BigCommerce gives you access to each theme's HTML and CSS codes.
This means you can chop and change your theme until your heart's content.
If you're not coding savvy, you can use the BigCommerce editor to do simple things like logo changes, adjusting headers and changing colours.
Here you can see a wide range of themes that BigCommerce users can pick from:
This is a pretty difficult decision to make, as there's no one clear winner.
With Shopify, your web store will look good as soon as you pick a theme and upload your content. Plus, you have the luxury of many different versions.
BigCommerce customers, however, can customise what they want in a much easier way.
If you're ok with changing code, BigCommerce may be the best option for you. If you're no good with code or don't want to get involved with it, Shopify is for you.
So now that you know what you can and can't do with Shopify and BigCommerce themes, let's take a look at how they're being used in the real world.
Shopify vs BigCommerce – Websites & Examples
To compare BigCommerce and Shopify in terms of design is somewhat redundant. Both ecommerce platforms are home to some beautiful websites.
Take a look below for some examples of Shopify vs BigCommerce in terms of real-world web stores:
Renogy is a website built with BigCommerce. You can see that see the amount of information placed on the website to help a visitor figure out exactly where they want to go:
Colourpop is a website built with Shopify. You can see how simple yet effective the theme is. Good quality photography makes all the difference!
Scentos is a website build with BigCommerce. While the design is quite simple, you can see how the webpages uses a livechat feature in the bottom left. Not exclusive to big commerce, but still a feature that's used by many large brands.
Skinnydip is another cosmetic website made with Shopify. Taking more of a minimal approach, you can see the main hero image that's used to draw customer in, while the area down the bottom encourages visitors to explore.
Rusty Surfboards is made using BigCommerce. This is a very simple layout that let's quality content in the form of colour and photography do the talking.
The official Budweiser website is made with Shopify. It's a rather comprehensive website that's used as their online store, as well as a place to show off the brand's story, history and much more.
BigCommerce vs Shopify – Pros & Cons
We've done a few reviews about different e-commerce providers, but one thing rings true for all of them.
There's no perfect solution for everyone.
Even in the behemoth battle of BigCommerce vs Shopify, there's no clear winner.
But here is a quick overview of why you might pick one platform over the other.
Why you should use Shopify over Bigcommerce
More customisable themes

Shopify payments mean you can be paid fee-free

Better if you're drop shipping

Insane number of third-party apps, solving various problems

Access to P.O.S hardware and software for retail purposes

Unlimited sales per month and per year.
Why you should use BigCommerce instead of Shopify
A wider range of features

Some of Shopify's expensive apps come standard with BigCommerce

No transaction fees apply, regardless of how you're paid

Free mobile-friendly themes

More thorough reports about sales, marketing and inventory

Use more product options

Granular control over SEO
BigCommerce vs Shopify – Conclusion
When looking at Shopify vs BigCommerce, there's no clear winner.
The best solution for you depends on so many different things:
What you're selling

Budget

Location

E

xperience
…and much much more.
On the outside, one may want to be one of the many BigCommerce users because of the sheer amount of features.
However, you may not care about features and want to customise your store more – so Shopify wins.
What makes this specific review even harder is that both Shopify and BigCommerce are such well-made products that are incredibly versatile for so many applications.
At the end of the day, the most general consensus that I'm sure we can all agree on is that BigCommerce is more tailored toward brands that already have an online presence.
If you're new to the world of ecommerce, Shopify may be best for you.
Now you've seen us compare BigCommerce and Shopify, what are your thoughts?  Let us know in the comments!