Disclosure: Some of the links below are affiliate links, meaning, at no additional cost to you, Storehacks may earn a commission if you click a link to an external source.
Are you stuck with the Wix vs WordPress battle in your head? Do you want to start an online store or website, but not sure which is the best option?
WordPress and Wix are two very popular options. WordPress has insane levels of customization, while Wix makes building an online store simple and quick.
In this article, you'll see WordPress Vs Wix in terms of Ease of Use, Features, Design and SEO.
In this Wix vs WordPress review, you'll also learn:

Wix plans and WordPress pricing
The differences between WordPress and Wix SEO

The best WordPress and

Wix website examples
It's worth noting though that there is no clear winner.
The best option for you is the option that suits your specifics needs. The best solution for you also depends a lot on your previous experience with coding.
Remember that there's more than these two platforms out there.
Check out some of our other ecommerce platform comparisons and even some of our favourite Shopify alternatives!
Read on to see this showdown between 2 of the best website builders and see which one is best for you – Wix or WordPress!
WordPress vs Wix – the differences
No two online services are ever created alike. While Wix and WordPress may result in the same thing, a website or an online store, the way you get there is completely different.
Let's take a look at how:
What is Wix?
Wix is an all-in-one website solution, much like Shopify and it's alternatives.
How does Wix work?
Using an out of the box solution like Wix means that you don't have to arrange things yourself. Elements like hosting and backups are already taken care of.
The product is updated automatically and the developers are striving to improve the product and its features.
What is WordPress
WordPress is the most popular website builder around. Responsible for over 30% of all websites on the internet, it's known for being easy to use, yet versatile and manageable.
It does, however, have a much steeper learning curve.
When using WordPress, you'll need to:

Set up web hosting

Create a database

Install WordPress

Install WooCommerce & payment gateways (if you're building an online store)

Find a theme

Edit & modify that theme
That's a pretty big to-do list. But requirements like that means you have much more control over your online store.
WordPress doesn't have an official support channel, either.
It's a product that's completely free to use but has no official support or service representatives.
Many people see this as an upside, as there are an insane amount of web pages out there dedicated to WordPress tips and help.
So now that you know the major difference between WordPress and Wix, let's take a look at how easy they are to use.
Wix vs WordPress – Ease of Use
Wix – Ease of use
Once you're in the main dashboard of your Wix account, it's very easy to navigate and use. From adding products and creating new pages to connecting social media channels. It's straightforward and intuitive with Wix.
If you know nothing about coding our building a website, you'll feel at home with Wix, as the process is pain-free and laid out in front of you.  
If you're thinking of using Wix for blogging, you're in luck. The blog feature is easy to use.
Here's the step-by-step process of adding a new Wix blog post:
Want to know more about blogging for ecommerce? Click here to see 7 Ways to use Blog Marketing in Ecommerce [Read now].
Once you've picked your theme, you'll go to the Wix Editor. The Wix editor is a feature that's great for first-time users.
Using the Wix website builder, you're able to drag and drop elements of your website anywhere you'd like them to be. Some of the best Wix websites have been built this way.
Wix ADI is another great tool that can do most of the work for you.
Just select whether you're building a Business page, Portfolio, Wix ecommerce store, CV or blog, and the tool will do most of the work for you.
What makes Wix so attractive is that it's easy to make major changes. Want to update the main image or change a background colour? Simple.
In the image below, you can see how easy it is to change the layout of a homepage:
Even things like adding a new page or language versions are simple, thanks to the well-designed interface.
WordPress – Ease of use
WordPress, in general, is pretty easy to use. But if you've never used it before, you'll be in for a surprise.
Here the view when you need to edit a webpage of a WordPress page:
As mentioned, the learning curve is much much steeper, as there is no support, education or specific point to work toward.
You're entirely on your own.
To make major changes to themes and layouts, you will need some kind of coding experience. There are some pretty standard plugins that require the copy/pasting of code in specific parts of a website.
If the thought of doing a little HTML coding is nerve-wracking, it's best to steer clear of WordPress.
Wix Vs WordPress – Ease of use takeaway
Winner: Wix
In a head-to-head battle for simplicity, Wix will beat WordPress any day of the week.
Want to see how WooCommerce goes against industry heavyweight Shopify? Read the article WooCommerce vs Shopify – Who is really the best ecommerce platform in 2018 [Read now]
Wix vs WordPress – Design
Wix – Design
Wix provides you with over 70 beautiful themes. Each one is entirely customisable and can be changed to suit your brand just the way you want it.
What's more, you have access to one-page themes (landing pages) which are a feature of ecommerce.
One drawback though is that you can't change your theme once you've started the editing process.
This slight drawback is offset by the fact that all Wix themes are also mobile-friendly.
WordPress – Design
WordPress themes are abundant, to say the least. Here are just 6 examples:
Many young designers use a WordPress theme to test and develop their skills.
How is that a benefit to you, though?
It means that there are a staggering amount of themes for you to work with. Most of them are well made, completely customisable and work on mobile devices.
As you'd suspect though, modifying many WordPress themes means you'll need to do a bit of coding.
That being said, there are hundreds upon thousands of themes that can be edited using the WordPress editor. This eliminates you having to edit the code manually.
While many people may see the need to code as a downside, consider it's advantages.
One of those advantages being you have total and complete control over the way your page looks.
Here's the code editor for a WordPress theme:
If you have a set idea in your mind and don't want to deviate from that, WordPress is the best option to realise that vision.
Wix Vs WordPress – Design Takeaway
Winner: Tie
No clear winner here. If you've no real vision in mind, go with Wix. If you've got the idea in your mind, WordPress.
Wix vs WordPress – SEO
For blogging, ecommerce and business, SEO is vital for getting your brand seen. But does Wix or WordPress give you more SEO control?
Wix – SEO
Unlike a lot of speculation out there, using a drag-and-drop builder like Wix to build your website or web store does not mean Google won't see you.
Just like most websites, good SEO means optimising meta tags, H1 through H3 headings and using the right keywords. All of which can be done using Wix. Wix SEO is ultimately no different to SEO on any other CMS.
WordPress – SEO
Using a WordPress site doesn't mean that you'll automatically rank number 1. What does matter is how well you optimise your site.
With a mind-blowing number of plugins to help you with SEO, WordPress certainly lets you control your SEO on a much more detailed level.
Here is an example of Yoast, the go-to SEO plugin for WordPress:
Be sure to optimise your page as best you can to ensure the Google will see your content as valuable and important.
WordPress vs Wix – SEO Takeaway
Winner: Tie
A poorly optimised WordPress site vs a well-made Wix site – the Wix site will win every day.
No matter what platform you use, your SEO performance will depend on the quality and optimisation of your page. The tool you use is irrelevant.
WordPress vs Wix Plugins, Apps & Features
The platform itself is important, but features and how they can help you are also important.
It's worth noting that what WordPress called Plugins, Wix calls Apps. Essentially, they're both the same thing.
Wix Features, plugins & apps
There's no denying that Wix is flexible.
The platform boasts a wide range of apps that can do many kinds of tasks. Some of the most popular Wix apps include:
Chat room for your online store

Customer reviews

Scheduled blog posts

A wide range of payment gateways
Here is an example of one of the many Wix apps: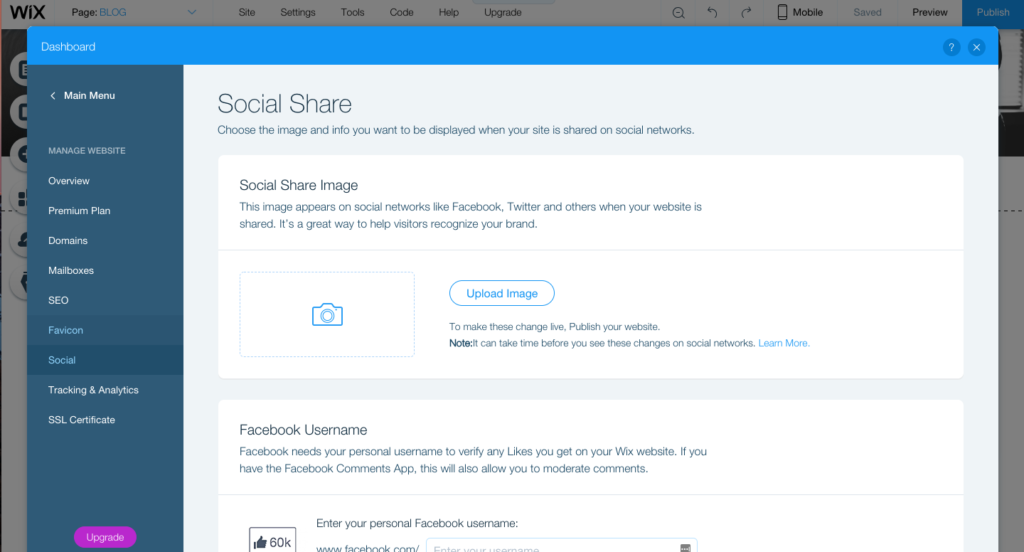 This is the Wix Social Media App which can connect your social profiles. Great to connect with your fans and help with influencer marketing.
This is just a small amount of what's on offer. Most of them are free, but some do have a premium option. Once you've paid, you have access to more features of the app.
WordPress Plugins
One of the things that make WordPress the most popular website builder is the sheer number of plugins available.
The number is almost uncountable, but it's safe to say that WordPress boasts more plugins than Wix. Plus, you can find a WordPress Plugin to do just about anything.
Ranging from SEO to Google Analytics, to integrations for drop shipping and print-on-demand, there's a huge amount of WordPress Plugins that can help you do just about anything.  
WordPress vs Wix – Features & Apps Takeaway
Winner: WordPress
While Wix might come with a lot of features that work straight away, WordPress is the clear winner here. The sheer number of plugins available to users can't be overlooked.
WordPress vs Wix – Pricing
Ultimately, the cost to get your website or web store off the ground needs to be considered.
Wix Pricing
Wix pricing comes in a tiered form. The higher the plan, the more features that are included.
Here's a list of Wix plans:
Connect Domain – The most basic Wix plan. 1GB of bandwidth, 500MB of storage and the ability to connect your domain. This will also show Wix ads on your webpage – $4.50(USD) per month.
Combo – This plan has 2GB of bandwidth and 3GB of storage. A free domain name and no Wix ads. $8.50 per month.
Unlimited – The most popular option. Unlimited bandwidth, 10GB of storage and 2 free apps. $12.50 per month.
eCommerce – Great for building an online store – Same features as above, but includes a secure payment gateway. $16.50 per month. This plan also means that there will be no Wix fees per transaction.
VIP – Includes email marketing and a professional website review.  $24.50 month.
Is Wix Free?
The Wix free trial is more of a Wix free plan. You're able to use the most basic features of the platform for free, indefinitely.
But for features like support and adding a domain name, you'll need to upgrade from the Wix free plan to a paid plan.
So to answer the question 'is Wix free', well, it is, but you wouldn't really want to use just the free version. Your website would probably do more advertising for Wix then you would for yourself!
WordPress Pricing
WordPress prices are hard to calculate, as you may not actually pay anything to WordPress.
Firstly, you need to purchase a domain name and hosting. This can be for as little as $10 per month.
The CMS (Content management system) that is WordPress is actually free. Many themes and plugins are free, too.
If you're building a web store using the WordPress ecommerce plugin, WooCommerce, that's also free.
But you'll also need to take into consideration that you'll need to integrate with payment gateways. Stripe and Paypal take monthly fees, as well as transaction fees.
WordPress vs Wix – Pricing Takeaway
Winner: WordPress – but…
WordPress is a clear winner here.
It's ultimately only going to cost you your third-party hosting and a domain name. That being said though, you do need to have some tech skills to set it up.
If you're not tech savvy or haven't used WordPress before, stick with Wix and a cheaper Wix plan. The total Wix website cost is still quite low, even on the Wix premium plan.
The out of the box solution may be pricey, but you'll be paying for a product that's simple to use. Plus, you'll have support if you need it.
Before deciding or Wix or WordPress, be sure to read the article: Who wins the Shopify vs BigCommerce battle in 2018? [Read now]
WordPress vs Wix – Examples
Now that you know exactly what WordPress and Wix websites are capable of doing, let's take a look at a few WordPress and Wix website examples:
Wix website examples
Is Wix good at web design? Well, it does a pretty darn good job judging by some Wix users!
Here are a few examples of the best Wix websites.
First, here is an example of a CV/portfolio webpage designed and build on Wix:
This Wix website is an ecommerce store: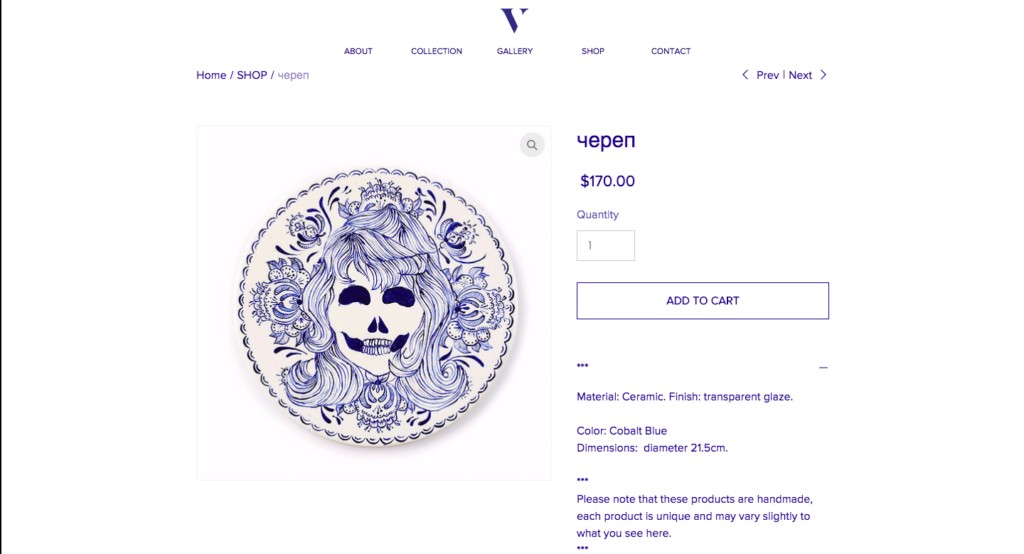 Here you can see an interior design company's Wix website:
WordPress website examples
Here are a selected few websites that show off the versatility of a WordPress website.
Here is a photographers CV hosted on WordPress:
This is a travel agency in Croatia that sells tour packages on their WordPress website:
Here you can see a Swedish music festival that uses a WordPress website to market and sell tickets:
As you can see, it's quite difficult to tell the difference.
Actually, there's no real way to tell what platform a website is made just by looking at it.
WordPress vs Wix – Pros & Cons
After this deep dive, you should have a little better understanding of the difference between Wix and WordPress.
If you're still not clear, here's a quick summary of the pros and cons of both.
Wix pros and cons
Pros
Works straight out of the box

Easy to use if you've never built a website or web store before

Great customer service

Good number of apps
Cons
Wix plan prices can be high for what you get

Not entirely customisable
WordPress pros and cons
Pros
Highly-customizable

Wide range of extra features and plugins

Free, or incredibly low-cost
Cons
Complex if you're not experienced

No official support channels
If you're still not sure if Wix or WordPress is the best option for you, take a look at some of our favourite ecommerce platform reviews.
WordPress vs Wix – Conclusion
So now that you've seen Wix vs WordPress go head to head, what are your thoughts?
It's a close race, with no clear winner. As stated at the start, the best option for you depends on what you're after and ultimately, your experience level.
Have you built a web page before? Do you have experience editing code? Go with WordPress.
Is this your first time building a webpage? Not confident working with code? Go with Wix.
Still looking for a WordPress or Wix alternative? Check out Shopify and a few of it's alternatives.
What are your thoughts on WordPress vs Wix? Do you have any experience using either?
Let us know in the comments!