Disclosure: Some of the links below are affiliate links, meaning, at no additional cost to you, Storehacks may earn a commission if you click a link to an external source.
Well, holy moly. If you're looking for Teespring millionaires that have gone on to create a brand juggernaut in the POD space, you've found them. I didn't check my emails as early as I normally would have this morning however when I did I was as excited as a teenage girl nailing her first TikTok dance.
Keegan and Corey are the industry kingpins, the Titans of t-shirts, the professors of print on demand, the kings of our industry.
I owe a lot of my own success to these guys as Keegan was our original coach back in the day when we were learning how to sell on Teespring. With that same knowledge and the inspiration these guys provide we continue to do crazy numbers as well ($732,701.35 in 3 weeks).
I love these guys and got to spend a few days with them in their old office, hanging out, drinking, tours, and just getting to know the men behind one of the biggest successes of print on demand ecommerce.
This is their story so far, it's certainly nowhere near what they will achieve with the drive and determination these guys have.
They have done some crazy things from working with the guys from barstool sports to the heavyweight champion of the world Mike Tython.
I give to you the teespring millionaires that have grown into full blown ecommerce millionaires…
The cRush Brothers
Your Name: Keegan Rush / Corey Rush
Company: Blue Pack Marketing
Monthly revenue (average): Average $3.5 Million+
Number of founders: 2
Number of employees (excluding founders): 170
Location: Clayton, North Carolina
Start date: July 2014
App Stack
Klaviyo – If you aren't emailing daily, you are leaving tons of money on the table. If you are cloning/duplicating without changing out images, products, or content, you are emailing half-assed.
If you provide genuine content and great emails, your emails can generate thousands of dollars in sales a day. We really love the functionality and ease of using Klaviyo vs other services.
LOOX Reviews – This review app is awesome! It really incentivizes your customers to send in reviews along with pictures.
The best part is it's 90% automated. We have a team member who approves reviews and passes along great fan photos to the marketing team for email and social purposes.
Bulk Product Edit – Time management is key in this business. If you waste a ton of time doing manual things when you could automate a task, you're losing money. Spend time doing revenue generating tasks.
Bulk Product Edit allows you to quickly change SKU's, product descriptions, etc. Set it, and forget it.
Attentive: SMS Marketing is the latest trend in reaching your customers where they spend time at. Do you spend more time texting friends & family or checking emails? That should answer any question you have in regards to SMS marketing.
We have used Attentive for close to 2 years now. To me, there is nobody that comes close to the amount of customer service, training, help, etc. that you get from Attentive, when it comes to App partners.
Q. Where are you based? Do you have a family? What do you do for work and fun?
We are based out of Clayton, North Carolina
Keegan Rush
I live in Garner, NC. I have lived in North Carolina my entire life and would never want to change that. Whenever we travel to cities like New York, Las Vegas, Los Angeles, etc.
I always return with a sense of gratitude for how much I love where I am from and where my family is. Our roots are firmly planted in North Carolina and I wouldn't want to leave for any reason.
I do have a family and wouldn't change them for the world. My amazing wife Sara and 1-year old son Boston are the reason I attack every day with the mentality to level up to give them a better life.
For work, I sell stuff online, whilst building brands with the ultimate goal of selling as much stuff as physically possible. My goal is to always improve the lives of those I surround myself with. I want to provide a better life for my family, partners, clients, employees, suppliers, etc., and their families.
That can be done by selling more stuff and growing the business. For fun, I love to spend time with family and friends, drive my Audi R8 fast, and sell stuff. Most would call that "work" but I genuinely love to sell stuff, so it doesn't feel like work to me.
I'm also a big Chicago sports fan, as well as a Duke Blue Devil fan. Sports has always been a staple in our lives, which has instilled an intense level of competition.
That level of competition has helped us aggressively scale the business but, also to take office Ping-Pong way too seriously. You take the good, with the bad right?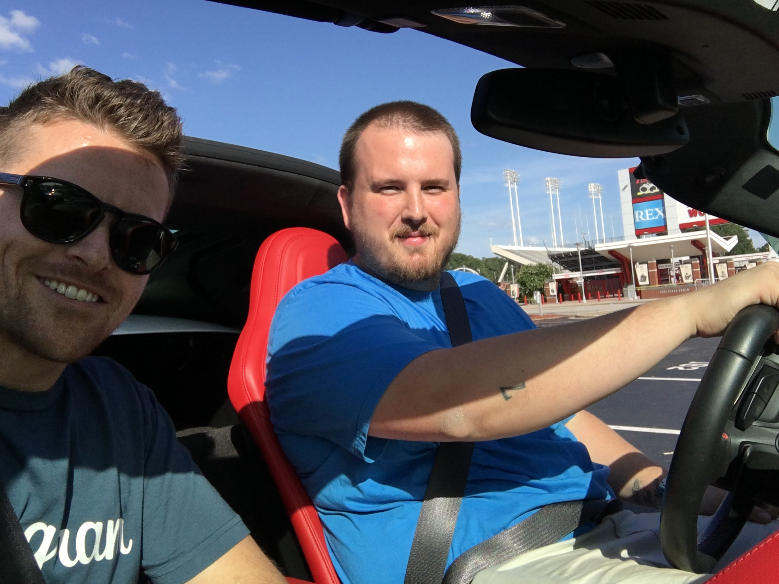 Corey Rush
Angier, NC is where I call home. I've got an awesome and very supporting wife Elizabeth, and 3 of the coolest kids ever in Carson, Piper, and Palmer.
If we aren't at the ball field with Carson, we enjoy hanging outdoors with the grill on; and the wine pouring! WORK for me personally is fun, when we made the decision to build this e-commerce thing into a true business; it was a decision to do what we loved and what we were pretty darn good at.
Outside of my Family and the Blue Pack Squad; I enjoy really good Wine (Caymus, Far Niente, and Plumpjack are my favorites). We set a goal to buy supercars, so I purchased an original McLaren 12C and it's been LOADS of FUN.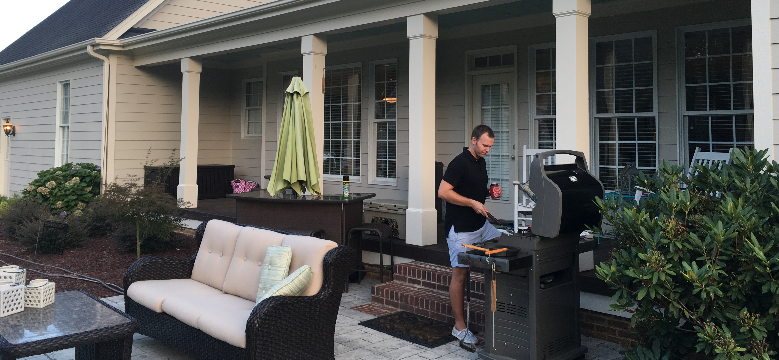 It drives very much like how we run Blue Pack Marketing, FAST and STRONG!
Q. What did you do before becoming a ecommerce millionaire?
Keegan Rush
Before discovering Teespring and becoming an internet marketer, I worked in retail at a Sports Memorabilia store and ran a couple of websites on the side.
I learned photoshop, basic coding, and in general became very computer literate, which led to being able to design my first round of initial designs that took off. That was the inspiration I needed to eventually become a Teespring millionaire, and inevitably an ecommerce millionaire.
The combination of retail plus computer literacy, definitely gave me a leg up on the competition before becoming one of the first teespring millionaires.
After running successfully by myself for 6 months, I decided to ask big brother for help with the "business" aspect and he initially helped with the books and taxes. After seeing the massive potential, he came on as a partner and we formalized everything, he left his corporate job and we attacked this full time with 2 minds, instead of 1.
We launched Blue Pack Marketing and It's been scaling higher and higher by the day. Now we have an awesome team at Blue Pack, with like-minded individuals who attack every day, as hungry as the day before.
Corey Rush
Prior to starting Blue Pack Marketing with my brother I was working my way up the corporate ladder with the Couche-Tarde (Circle K Convenience/Gas) organization. I operated as a Director at the age of 28 and controlled up to 3 states over 150 stores/2,000 employees during my tenure.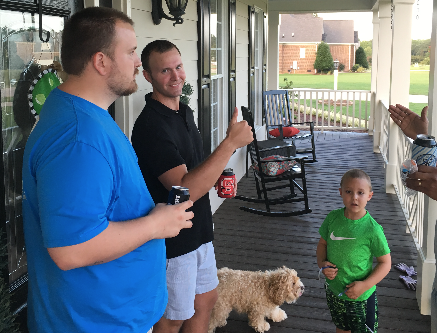 The corporate world while rewarding and exciting simply wasn't one for me. My brother Keegan and I had started 3-4 smaller ventures prior to creating Blue Pack Marketing; 2 of which were very successful so we knew we worked well together.
So when we decided we were going to double down on this "online selling" thing; I did what any normal guy would do……I went home and told my pregnant wife, in our brand new home that I was quitting my job to sell stuff online with my brother. Little did she know at the time that we'd soon be Teespring millionaires.
She supported me the whole way, and we have never looked back.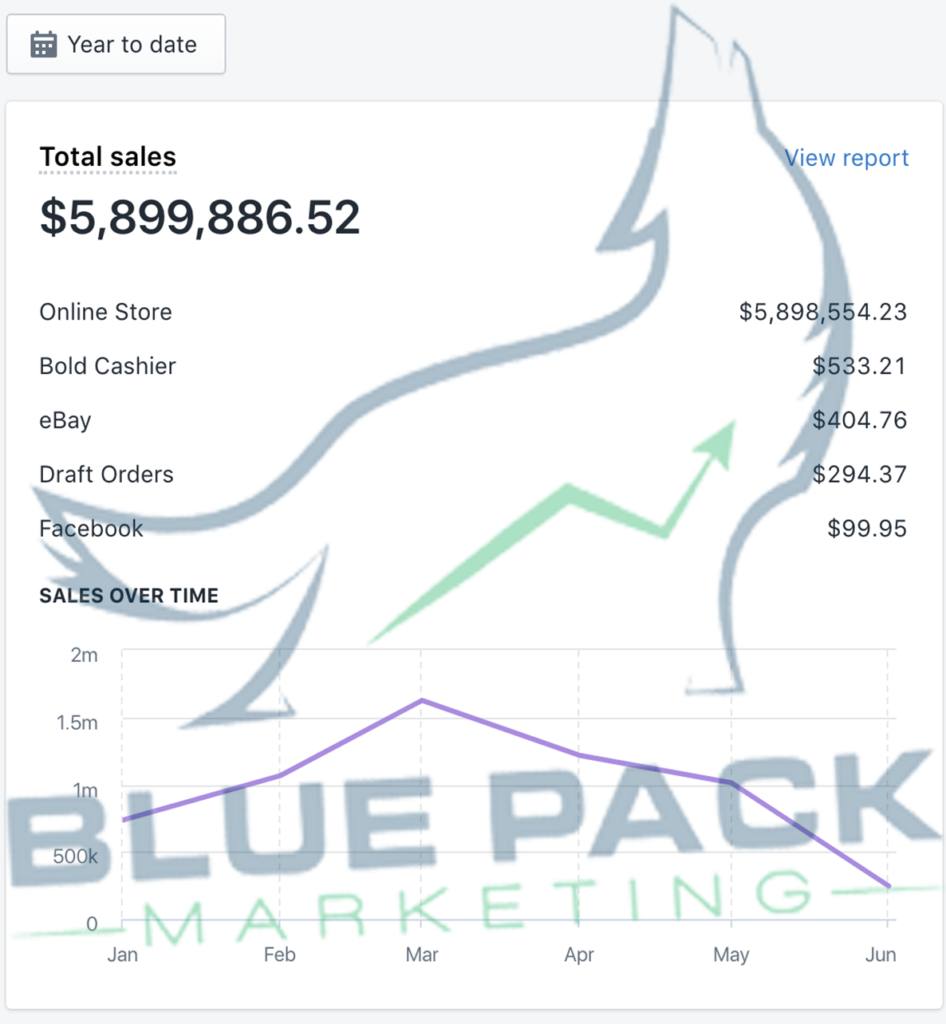 Q. How often do you launch new products?
Before becoming Teespring millionaires we would launch as many campaigns as possible.
Now, we launch 1-2 new products a week. We have a vast array of outlets to test these products whether it's Facebook Lives, a Facebook Group, Email List, SMS List, Social Posts to track engagement, etc.
If you go to bat twice and strike out twice, you're 0/2 and forgettable. If you go to bat 10 times a month and get on base 4 times, you're batting .400 and in the hall of fame with that average.
Q. Where do most of your customers come from? Google search? Social Media? Other sites?
Facebook is our main vehicle for sales if you look at %'s however email, Instagram, and Google Shopping are contributing larger chunks to the sales engine by the day. Instead of trying to be superstars in everything, we've built up team members and partners to be the Michael Jordan of their own specific area.
Corey and I put the lion's share of our ad focus into Facebook while we have somebody specifically handling the other sales channels. A lot of focus, testing, and reading is required to stay up to date on all of the recent Facebook algo changes.
I think we have always been great at maneuvering the waters during change, to not only stay profitable but also to see the growth even when things are down for most others. Part of that speaks to the power of the brand in our stores.
People visit brands, they don't visit pop-up T-Shirt shops that look fly by night-ish. If you were to turn off all ads, between email and organic traffic, we have a couple of brands that would still do 7 figures a year easily.
Q. I'd love to hear more about your ecommerce successes to date. What great things have come to you through building your success and growing your store? Would love to hear a story.
There are a couple of stories that immediately stand out when I think of our successes, being among the first teespring millionaires was definitely one of those moments.
1.) We have generated over $250,000,000+ in sales, possibly more if we had more accurate tracking on some brick & mortar, television, and local work we've completed over time. This is from brands that we own and/or platform sales over the years.
It also includes wholesale channels into brick & mortar boutiques and stores. We have had 1 brand in over 200+ locations that we eventually sold. Our current brand is in over 700 retail locations and trending to be in over 1,500 by the end of the year.
We've built this wholesale pipeline from the ground up and are now executing at a really high level. We have taken a Shopify brand and cultivated a wholesale distribution channel, which to my knowledge hasn't been done on this scale.
2.) We have successfully exited 2 Shopify/E-Com companies in the 6-figure range. We are hoping our next major acquisition is in the 8 figure range and current valuations dictate that.
3.) We made it a goal to both be driving supercars. One day Corey mentioned that we should go do it and within 72 hours, Corey had a McLaren and I (Keegan) had an Audi R8. Now we want to outfit all of our team members in supercars.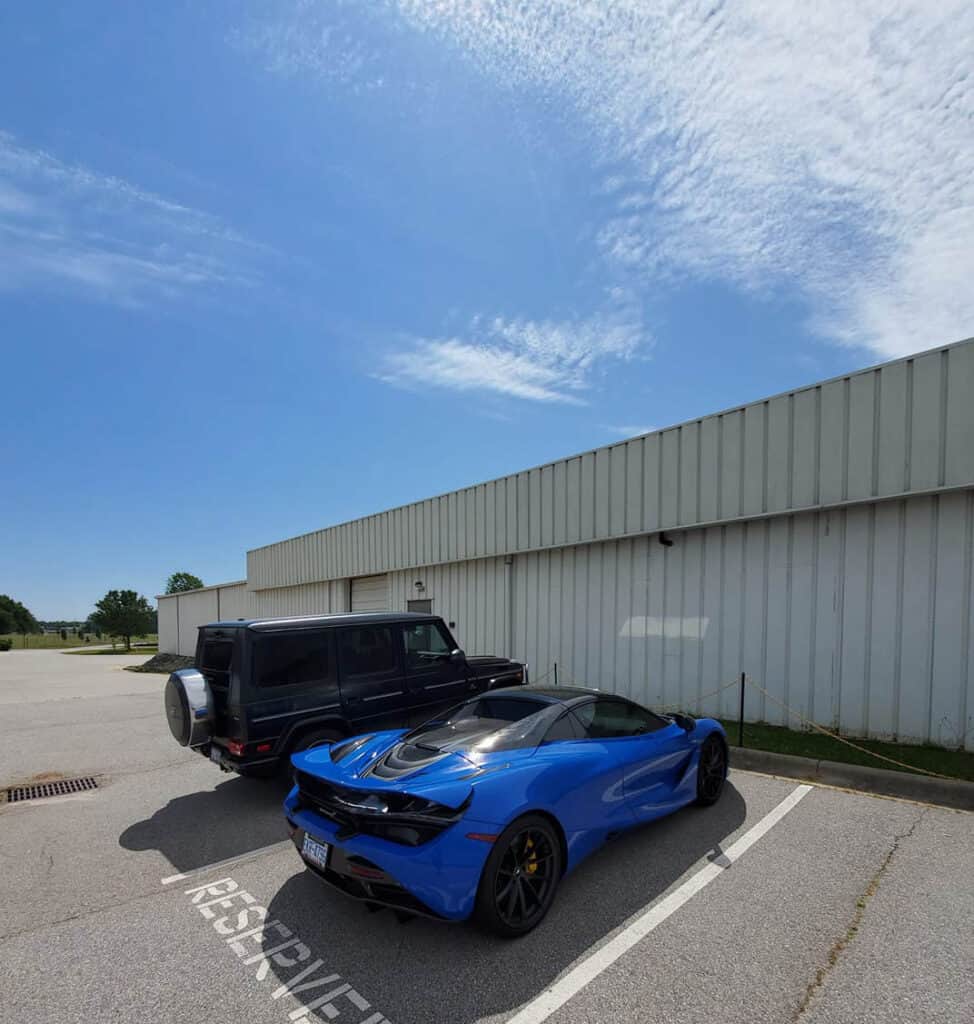 It will make driving past our office each day a true spectacle.
4.) We've always worked in the e-com space, we have had multiple relationships approach us about advertising in other arenas. We accept clients based on relationships, compared to seeking them out ourselves.
Success with Serious Brand Power
We took on some work for the History Channel. We were able to rank a TV show in the Top 50 most-watched programs in the United States that night. It went up against a competitor's similar show, who did the national talk show circuit with Ellen, Fallon, Conan, etc.
We ranked in the Top 50, they were ranked 83. It was a very small advertising budget but, we were able to crush it and make waves on a national stage. It was a success because we had no idea what to expect from the results being that we're sellers in the ecom space.
We've amplified the client side of our business and most notably handled the stores for Mike Tyson, The Hodge Twins, and Donald Trump Jr.
It showed that a lot of our principles can be applied across multiple industries.

Q: What platform/tools do you use for your business?
Full QuickBooks integration with an accounting department to ensure all invoices are checked for accuracy.
Sometimes an invoice might accidentally have 3-4 extra items in it, with multiple suppliers, multiple brands, that can easily add up over the course of a year, you need to be very careful.
We now have in-house developers vs utilizing an agency for conversion rate optimization. This allows for more dedicated focus, nimble movement, and a function of deeper caring.
Having a team member who looks at that like it is their own baby has been a very pivotal change for us. In a massive business, moving the needle 1% is huge. We try to do that multiple times throughout the year to find savings, that we can redeploy as investment capital.
Q. What's your number 1 tip for new dropshippers getting into the industry?
Structure your business from the start, don't let the money fool you! Early on, before becoming Teespring millionaires we learned to follow a structured system.
Statistics simply aren't on your side as an entrepreneur with over 90% of ventures never operating in the black. (Profitable).
Throughout the last 5 years and companies that we have started and sold (That's right we have built up Shopify Brands and SOLD THEM); if your supply chain/organizational structure/customer service isn't all on the same page…..YOU WILL FAIL.
Unfortunately, this isn't something that is managed by an application, or something that a virtual assistant can do off the bat; it's something that will require you to lay out a very detailed game plan.
The other part about structure that many e-commerce teams struggle with is tracking financials and actually analyzing them. Are you winning on shipping? Product weights correct? Accounting for larger sizes?
Are you accounting correctly for expenses? These are all questions that if you don't STRUCTURE from the start, there is a higher chance that your business will end up failing.
Don't take in money, pay invoices and ad spend, and assume the rest is profit. Make sure you're tracking your expenses and profit daily.
We do this 7 days a week and account for every dollar divided by 30 days a month for accurate tracking/accounting.
Q. Where can people find out more about you? Is there anything else you'd like to share?
You can check us out on BluePackMarketing.Com – We don't seek out new clients, we generally like to take on cool projects or ones that stem from relationships.
If you have a cool opportunity, please feel free to reach out to us. We would love to give a major shout-out to our team. Everybody plays a very important part in our story and the development of our brands and projects we work on.
Our goal is to be on an island and we plan to bring the entire team with us when the major acquisitions start happening. If I were to expand on how awesome each of them is, this part would be longer than the entire article.
Shout out to others that we have met along the way. It's been a fun ride and we plan to keep this locomotive rolling.
Also dibs on all sales, on all advertising channels.
P.S. Shout out to our parents and family as well. Love you guys and appreciate all of you!