Disclosure: Some of the links below are affiliate links, meaning, at no additional cost to you, Storehacks may earn a commission if you click a link to an external source.
This Gooten Review will shed light on one of the most professional outfits in POD. The Print On Demand business model often gets a bad wrap, but there are some shining lights. 
But the fact is that the world of ecommerce is growing, and there have never been more ways for you to create an online store and sell a product without actually stocking it. And Gooten is just one of the ways you can do that.
Gooten is like the Spocket or Oberlo of POD – you're able to create an entire range of clothing and other products with whatever design you'd like. Whether it's a sports brand, clothing for a specific event or you'd just like to put your own designs onto something physical, Gooten can help you do that.
Gooten offers high-quality products and can print your design onto them, whenever they are ordered. Then, your product can be sent all over the world.
In this article you'll see:
Printful vs Gooten – which comes out on top?
Using Gooten and your Shopify store
Gooten costs and pricing
So let's take a deep dive into Gooten by seeing how it compared to another industry giant.
Printful vs Gooten
If you're reading this article, you're probably familiar with Printful. It's one of the most popular POD systems and is often compared to Gooten.
So, what are the differences?
| | Gooten | Printful |
| --- | --- | --- |
| Fulfilled from | USA, Canada, Europe, Asia or Mexico (depending on product) | USA or Latvia |
| Ease of Use | Very simple | Very simple |
| Fulfillment | Outsourced | In-house facilities |
| Lead time | 3-4 days | 3 days |
| Tech support | Positive reviews | Positive reviews |
| Product variety | Few options | Many options, ever growing |
| Print Quality (according to reviews) | Occasional problems with material quality | Industry standard |
| Shopify Rating | 4 stars | 5 stars |
Both Printful and Gooten have products that start around the $7 mark. Both are easy to use for beginners and products are fulfilled (printed and sent) in similar amounts of time.
One of the biggest differences between the two POD companies is the way that they fulfill the orders.
Printful have 2 factories, one in North Carolina and the other in Riga, Latvia. All products that are on offer are either made in the Printful factory or are a reliable, well-known brand, (Gildian and American Apparel, for example).
Gooten outsources its orders to independent manufacturers all over the world. For example, t-shirts are made and printed in Europe or the USA, whichever is closest to the point of purchase. However, products like backpacks are made and printed in Asia.
What does this mean for you?
Well, nothing really. If a customer orders a product that's made in the US and a product that's made in Asia in the same order, they mightn't arrive together. This can confuse and perhaps frustrate your customer at some points.
For a complete list of where Gooten fulfills each product, take a look at this list.
How Gooten works
Gooten, like most other POD services, is quite simple to use and operate on a daily basis.
We'll go into more detail later, but the most simple way to explain how Gooten works:
Pick the products you want to sell

Place your custom designs on them

List those products for sale in your store
That's it!
Well, when I say 'that's it', what I mean is that you still need to market and grow your store.
It's still up to you to drive traffic to your store and to convert that traffic into customers. Gooten simply makes the process of sourcing and listing custom products a lot easier.
You will see more about pricing later, but you only pay Gooten each time a product sells. There are no per-transaction fees, monthly fees or subscription fees.
You control the profits on each product and pay Gooten just the base price of each product, only when it sells.
This means that you're not spending money on a product if it isn't selling. Plus, you can control your cash flow a lot better knowing that you don't have a monthly or per-transaction fee to pay!
Installing gooten on Shopify
It should be of no surprise that installing Gooten onto your Shopify store is as simple as adding any other kind of plugin.
To start, click the link below to go to the Gooten App in the Shopify App Store.
Click here to go to the Gooten App in the Shopify App Store
Now click "Get".
Now you'll be at the Gooten sign-up page. Fill in all the required info to continue.
Note: You don't need a credit card to sign up for Gooten
The next step is to enter your Shopify Store URL and connect the Gooten app to your account. Once that is done, you'll be at the installation page in your Shopify Dashboard. Simply hit "Install" and the app will be installed.
Adding Gooten products to Shopify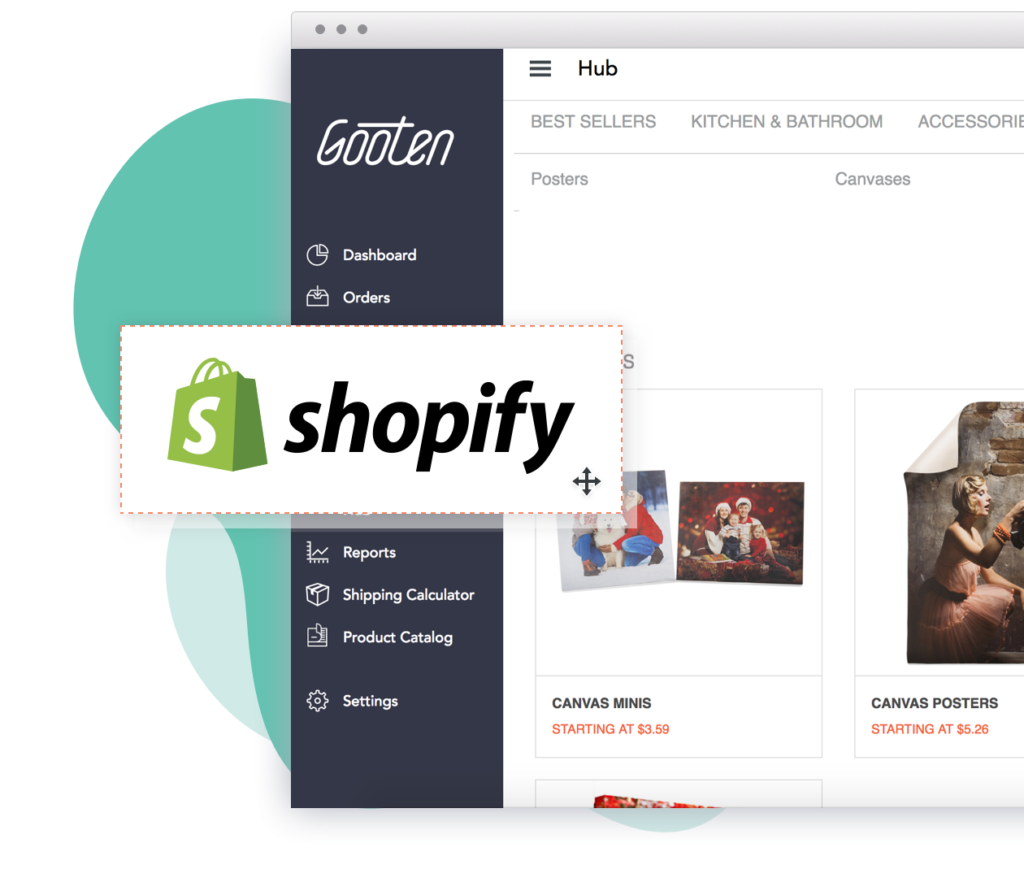 Once you've installed Gooten into your Shopify store, it's time to add products.
Head to Gooten homepage from within your Shopify dashboard. Now navigate to "Product catalog", log in with your account and click "Add a new product".
From the list of Gooten products listed before you, pick the type of product you'd like to sell. Use the filters to fine-tune exactly what you need, such as brands, sizes, styles, etc.
Once you've picked the product you want, you can then further select the options that you'd like to make available in your store.
For example, if the logo for your design is predominantly red, you might like to print it on every possible color shirt, except red and other similar colors. Therefore you'd select every color except red.
Use this next section to upload your image and see how it looks on each variant.
Fill out other necessary information, like product names and write the description accordingly.
Hit save and the product is listed in your Shopify store for customers to buy!
Gooten and Etsy
With Etsy recently changing it's listing rules, you're now able to use Etsy to list Gooten products and products from other POD suppliers.
There is no official way to integrate your Gooten account with your Etsy account. It can be done, but it's a pretty manual and therefore tedious process.
To list your Gooten products in your Etsy store, you'll need to save a mockup of the product with your custom design on it, and then use this image in your store.
Once you have your Etsy orders, you need to export your orders as a CSV file.
Next, within the Gooten dashboard, click on the "CSV Tab". Download the CSV template and then place all the data from your Etsy CSV file into the new spreadsheet.
Now you can upload this CSV file into Gooten and all your Etsy orders will be automatically fulfilled.
Ordering a sample product from Gooten
With an ever-increasing amount of trending products to sell, one problem that the POD industry creates is that you the seller, never really get's to have and hold the product before you commit to selling it – you personally cannot back the quality of the product, as you don't see it before it goes to your customer.
When using Gooten, you can order a sample product for yourself to measure and test the quality of the product. This means that you know the quality of the product you're selling before you actually start selling it.
It's a good idea to sample every product you're selling before making it available to all your customers.
To order a sample product through Gooten just head to the Gooten dashboard. Then click "Orders" on the side panel. Click "Order a sample" and follow the steps on the next page.
Here is a list of Gooten products that you can list for sale, and order samples of
| | |
| --- | --- |
| Accessories | Journals & notebooks |
| | Travel & leisure |
| | Ornaments |
| | Totes & bags |
| | Wearable |
| Home & living | Kitchen |
| | Bath |
| | Mugs |
| | Living Room |
| | Holiday Decor |
| | Bedroom |
| | Outdoor Space |
| | Office Supplies & Tech |
| Print Products | Prints |
| | Calendars |
| | Cards |
| Wall Art | Posters |
| | Canvases |
| | Prints |
| Apparel | T-shirts |
| | Long sleeve shirts |
| | Sweatshirts |
| | Hoodies |
| | Tank tops |
| | Socks |
| Kids | Kids |
| | Baby |
| Pets | Pets |
Gooten and shipping
Gooten has a fancy system that automatically calculates the cost of shipping depending on the customer's location. You don't need to do anything!
Shipping costs are automatically added to the price of the product when your customer adds their product to your shopping cart. The Gooten Shipping Calculator gives you a rough estimate of how much it costs to send a product to certain parts of the world.
Gooten product pricing
The costs of all Gooten products can be found on the Product Catalogue. The prices that you see are the total prices for your product to have the custom print put on top of it.
For example, if a phone case says that it costs $4.95, it costs $4.95 for the case and to have your design put on top of it.
This price does not include shipping the product to your customer!
You are in complete control when it comes to the pricing of your product. As mentioned, if a phone case cost $4.95, you can control the profit margins of each product. You can manage the pricing of each product from a dollar value or a percentage.
For example:
Product ($4.95) + Dollar profit margin ($5) = Sale price ($9.95)
Or
Product ($4.95) + Percentage profit margin (50%) = Sale price ($7.42)
How to change Gooten billing info
As Gooten charges your credit card directly, you may want to change the credit card that's being charged in order to accurately track your expenses.
On the Gooten homepage, go to "Settings" -> "Billing". Here, you just need to enter your credit card details and hit "Save".
This new card will now be the default card to charge product and shipping costs.
Gooten costs
When using Gooten, you're not charged a subscription cost, transaction or any other kind of recurring fee. You only pay for the products that are actually purchased and printed. This is one of the benefits of the POD business model; you only pay for what's sold.
The process that Gooten uses to charge you for your purchase is like this:
Your customer is charged by you (your business).

They pay you in your preferred payment method (PayPal, Debit, BitCoin etc)

Gooten then charges your credit card for the products your customer purchased.
The benefit of operating in this method is that your products are entirely white label. At no point will your customers see 'GOOTEN' anywhere on their bank statements.
You can run an entire business without your customers knowing that you're using the POD business model.
If you'd rather your customers pay Gooten directly, you can use the Gooten Widget in your online store. This means that your customers will use the secure Gooten checkout and your credit card won't be charged at all. Your profits are then paid to you every 2 weeks by ACH (Automated Clearing House) or PayPal.
Where to Start with Gooten
In terms of branding themselves, Gooten has outdone themselves and appear to be in a league of their own. When you start with a new platform you're typically drawn there by 1 of 2 things…intrigue in a product, or reading one of my reviews ;).
But in seriousness, it's often hard to decide which product it is that you should start with. Thankfully, Gooten is one of the only platforms I have seen that offer a "Trending" page for products that are currently selling. This kind of information is priceless.
As Ronnie mentioned in his recent article for trending products for 2019, All Over Print Shirts copped a mention.
Current trending products on Gooten;
All-Over Print Shirts
Throw Pillows
Woven Blankets
Sherpa Blankets (Infant Size)
Swaddle Blankets
Travel Bags
What to look for when selecting a product.
It's not enough to just select any old product…If it doesn't have more than $30+ margin it gets very difficult to use the product for front end sales. When sizing up which product you want to lead with you have to remember a few things;
Pricing (Is your price in line with the competition? Is there enough margin?) – Aim for $30+ Margin.
Is it a cross-sell, up-sell or lead product?
Does the product fit with your current product line-up?
Conclusion
Gooten is a fantastic tool for you to base your POD ecommerce business around. With a wide range of products and quick fulfilment compared to many other Asian manufacturers, you won't have any problem building a brand.
While there are some downfalls in terms of reviews and product quality, these are problems that all POD companies face.

Some Reddit users are concerned that the fact that Gooten outsources its production means that it cannot guarantee product quality, and that imperfect merchandise may be sent to your customer.  
These issues are justified, but it's worth noting that there are thousands of Gooten users who have never had such kind of problems.
What POD apps would you like to see reviewed? Let us know in the comments!