Disclosure: Some of the links below are affiliate links, meaning, at no additional cost to you, Storehacks may earn a commission if you click a link to an external source.
If you're new to the Print on Demand industry and looking for Teespring reviews from a power seller than you're in the right place. Firstly, let's get one thing straight… It's "TEESPRING" not "TEESPRINGS"! There is no "s".
Now, to say I love the company is an understatement as what it has allowed me to do, and the life it has allowed me to live is something I will be forever grateful for.
Since first hearing about it through a Don Wilson course he was promoting (I think it was Facebook Ads Cracked) I have had an incredible ride with the platform. I was lucky to jump on early enough to experience the incredible growth the company had, and the amazing results with Facebook ads.
A lot has changed within Facebook and Teespring itself, however, the fundamentals still remain the same. Good products sell, and when great platforms deliver it is a recipe for success.
In this article, I am going to share with you the pros and cons and the experiences I've been lucky enough to share with the creators and the incredible people that have worked there over the years.
So strap in and buckle up, I am about to take you on a ride that could literally change your life. 
Teespring Review: How I Made $2,537,003 and You Can Too

First Stop, Who is Teespring?
If you're looking to start or for a Shopify Alternative, Teespring is by far the best way to sell shirts online without inventory. If you're any type of entrepreneur typically you'll love a good startup story.
Hearing Teesprings sucked me even further into the love affair that I have had with them.
Evan Stites-Clayton & Walker Williams were mates in University and when their favorite pub, Fish Co, decided to shut down these lads took it upon themselves to do something about it. That something was the early edition of Teespring.
Before they created a website, however, they felt compelled to raise money to keep the pub up and running. They decided to print some shirts however quickly found out that it was incredibly expensive to buy any shirts upfront.
The suppliers wanted to only give them specific sizes in specific quantities. Well…

They quickly put their newly developed skills to work to develop a website that would take preorders. It was an absolute hit and they managed to successfully sell a few hundred.
The realization they had created a business.
Their idea meant there were not any extra shirts left over, they knew exactly how many they needed. This meant the profit they made was maximized instead of tied up in shirts no one wanted.
After the initial success, they were asked enough times by others to do the same for them that they decided to embark on the business that is now known as Teespring. And that my friends, makes me, as well as many thousands of other sellers very, very happy indeed.
If you were looking for someone to thank for Print on Demand and Dropshipping as we know it, we owe a massive THANK YOU to Evan and Walker. These boys forged a new industry and deserve a lot of credit for the number of people that have completely changed their lives from an idea to save a pub.
People who never would have found a way out of poverty and those that have created multi-million dollar empires all have the same thing to say to these boys whether they know it or not.
So…,
Is Teespring Legit?
This was definitely the first thought that ran through my mind when I first heard about it back in 2013. The numbers that people were claiming they were making seemed ludicrous.
I had been drilled one way or another that anything that seemed too good to be true was probably a get rich quick scheme…
I put off doing anything with the platform for about 6 months until I just had to try. At that stage, Suhail and I were working on building WordPress websites for a measly $500 a piece.
In any case, I started designing different ideas and had my first success with a biker niche.
The early success with that tipped campaign made me look further into scaling and I stumbled across people doing name and age shirts. If I thought the numbers before were stupid then these numbers were out of this world. I HAD TO TRY.
I put a basic idea together and targeted countries outside of the USA. Most notably Australia seeing as that is where I am from. To say our results with age campaigns was a success would be a massive understatement.
But why am I telling you about yet another success? Well, it was the way in which we had to find out if was the platform was legit. Is Teespring legit? Of course, it is.
We didn't have a lot of money when we started (I was $120,000 in the hole) and the web design business wasn't making huge money. When we woke up and found our campaigns selling we knew we had to scale immediately.
The problem was, we didn't have the capital readily available to pump into the machine.
But what about the risk?
Not only that, but we were running a MASSIVE risk (or so we thought). Prior to this Teespring had done a couple of small payouts, certainly nothing as significant as what was to come.
We were getting any available cash we had. I had credit cards that barely had anything on them, and Suhail injected significant money.
At one stage I think we had invested $15-$20k without a payout from Teespring. We were puckering and hoping for the best. A week later, the deposits started hitting our PayPal. I knew the cash existed, I dreamed that I'd have it, I dreamed that it would be in my account.
Never had I ever experienced this type of money hitting my account one payment after another…
Without a doubt, Teepring is not a scam, they are 100% legit and a company you can 100% trust. They have always done the right thing by me as they will for you.
How does Teespring Work
How does Teespring work? Firstly, it is 100% FREE to use. You will only ever be charged for a product when someone purchases an item from you. Teespring charges a base cost for each item on their platform and leaves you to put your profit on top.
What this means is you keep 100% of whatever you decide to sell the product for on top of the base cost. For example. If you want to sell a hoodie and the base cost is $20 and you sell it for $40 you keep the $20.
Typically unless you're an influencer with a massive audience you will pay for your ads out of this profit.
So why do people gravitate towards platforms like Teespring? The simple answer is the ease of which you can get started with a killer side hustle.
Teespring is easy. You focus on designs and marketing. Unlike creating a Shopify store where you have to handle all the backend of running a website (think customer service, up-sells, down-sells, email sequences, and all the other apps and add-ons and extra costs involved.).
There are pros and cons to selling this way which I will discuss later.
What does Teespring Do
Teespring is a Print on Demand platform that allows you to create your own designs to sell on apparel, home decor, socks, phone cases, mugs and a whole lot more. All without ever having to touch the actual product itself.
It is genius, it is personal, and it is profitable (if you crack the code). Their platform is ideal for many reasons;
No minimum purchases

Customer service headaches are a thing of the past

No inventory management (ugh, no one wants stale stock)

Products are typically printed within 3 days and delivered within 2 weeks

No fees or ongoing costs. FREE!
Teespring literally takes care of printing the products and fulfilling, sending the order directly to your customers.
All you have to do is learn how to profitably drive traffic to each campaign in order to give them something to bloody print!
Teespring allows you to focus on 2 key drivers within your business. This centralized focus allows you to get very, very good are finding products/designs that sell and driving traffic.
Having this hyperfocus allows you to not have to worry about the traditional aspects of a business that gets in the way of becoming an expert in what actually makes the money.
Teespring wants nothing more than to see you succeed. They have built a huge resource of seller tools to help you on your path to success.
In their training center, you can find all the essentials you need to start selling.
Teespring is continually bringing on new products to ensure you can scale out your winning campaigns on to new items. Nothing sparks up a new flurry of sales than offering a previous (or current for that matter) successful campaign on new, trendy products.
Teespring is open about its pricing and you will see exactly how much you stand (and what they charge) to make based on the profit margin you set.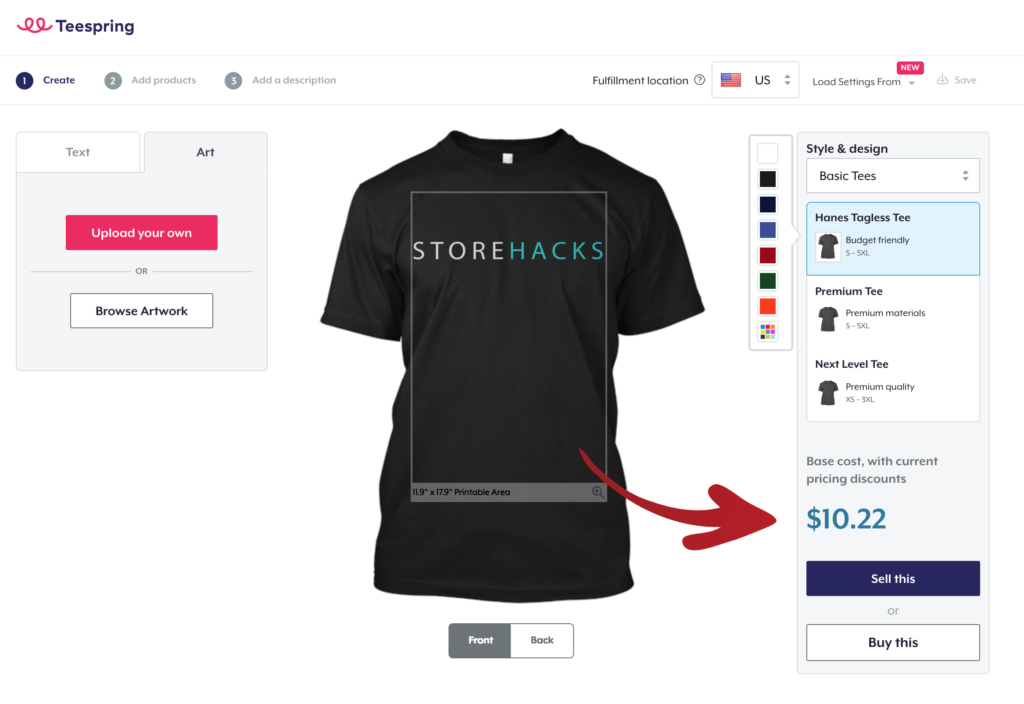 Who's the best fit for Teespring?
If you're just starting out and you've heard all the hype around Shopify and drop shipping I would suggest wetting your feet with Teespring. Why? It's free and if you're starting POD as a side hustle only having to focus on 2 key areas allows you to free up a lot of time.
Phrase Creation & Advertising are the key components that will have the biggest impact on your profitability.
I am incredibly grateful that my apprenticeship was done on Teespring as it allowed me to hone my craft to a level very few people would be able to compete with.
Being able to create phrases that are scalable and having the ability to hyper-target with unlimited variation is incredibly powerful.
I do not believe if I was focusing on every part of a traditional e-commerce business that I would have become as successful as I have.
So if you're just getting started seriously consider Teespring. They are a top quality company that helps you every step of the way.
The best thing about working with a platform like Teespring is it doesn't matter if you've been in the industry for some time or just starting out, they have options to suit both.
It is by far the easiest way to get into e-commerce for a beginner and a great way to add an extra sales channel for the seasoned pros as the marketplace drives significant sales.
If you're a beginner and don't know where to start then have a think about a niche that you would be passionate about. I have written an article previously that offers over 1000+ targetable niches within Facebook.
How to Use Teespring
Using Teespring is pretty easy. Once you have taken care of getting your designs finalized it is time to get them uploaded onto the platform. Below, I am going to take you through launching your first shirt.
Step 1. Select your product
Here you'll need to scroll past all the options down to the "Other Best Sellers" to select "Apparel".
Hover over apparel and click "Start designing"
As with most things, focus is key. Make sure when you're starting out you are focused on selling 1 style of product. Shirts or hoodies are the best start.
Step 2. Upload your design
In the top left, it defaults to "Text" you need to select "Art" in order to upload your own design. Once you have found that upload button select the file you want to upload and position it accordingly on the front or back of the shirt.
For the front of the shirt you will want to make sure your image dimension is 3000px x 4500px @ 300dpi.
Step 3. Select Colors & Pricing
The key here is to select colors of the garment to suit the colors in your design. Ugly sells but you don't want to offer a shirt with navy in the design on a navy shirt.
As a side note often times the more options the lower the conversion rate so keep in mind that more is not necessarily better.
With regards to pricing. You should test and measure what works for the niches you are in. Some niches are happy to pay $25+ for a shirt, others you'll be flat out giving them away.
Some sales we have we lowered the price down to $17, however, tend to be in the $19.99 – $24.99 bracket.
Step 4. Add Extra Products
Starting out, offer the bare minimum. Unisex Hanes Tagless Tee, Gildan 8oz Heavy Blend Hoodie & the Women's Premium Tee.
NOTE: Create a campaign purely to duplicate so you can launch new designs more efficiently. Part of your success will be how much time you actually spend doing the menial tasks. This is one way to turn a 15 minute launch time into 2.
Step 4. Add Your Product Title & Description
You will want to make sure you take into consideration the SEO for these. Using the niche keyword and a clear title (used also in the description) will allow you to show up in the Teespring Marketplace (this beast makes you money while you sleep).
Select the correct category for your campaign, campaign length (3 days is perfect as it gets the product printed and shipped much faster) & ensure your URL also includes your product title.
Teespring's Features & Services
Teespring offers far more than great products and a low barrier to entry for starting ecommerce. Their seller support and resource library allow you to get set up, educated and scaling campaigns extremely quickly.
Keeping an eye on their blog will give you an insight into how some sellers are absolutely crushing it on the platform. This alone is gold for a POD entrepreneur and give you real-time Teespring reviews that are packed with nuggets of information for you to implement in your own business.
In amongst their resources, you will find the ever-growing catalog that Teespring offers which include;
Athletic Apparel

iPhone Cases

Canvas Prints

Beach Towels

Leggings

Wall Tapestry

Posters

Flags

Pillows

Socks

Shirts

Hoodies

Stickers

Tots

Mugs
As I previously mentioned Teespring success stories will be from power sellers who have focused on key products. It is by using the same products that you create the consistency with your launches and remove unnecessary variables (of which there are thousands) so you can focus on honing your craft.
Teespring will work with you as you start to become more successful and open up even more products for you to test. Becoming a consistent seller is incredible leverage you can use when speaking with your account rep.
If you have product requests, special design request i.e. long sleeve printing, foil print etc, you will be given access if you've proven you can sell.
Teespring Storefronts & Cross-sells
The storefront Teespring offers allows you to group together products within a niche in order to showcase the different campaigns you have. Effectively what this means is you have the potential to increase your revenue by showing relevant "proven sellers" beside the current products you are selling.
Within your dashboard, you will be given the option to create your own store. Click on this and follow the instructions. It is a good idea to drop in a niche relevant image or offer for the banner of your store.
If you want to learn more about stores check out Kate's article on Teespring Storefronts.
Teespring Boosted Network
One of the many reasons I love Teespring is due to them being proactive in driving more sales than just what you throw at the platform. Organic sales are where it's at and Teespring has been able to deliver over 500,000 sales to over 80,000 sellers.
Their boosted network allows you to tap into many other platforms including;
Wish

JD.com

Etsy

Rakuten

Walmart

Ebay

amazon
Their end to end integration makes it easier than ever for you to be selling on a massive variety of platforms. Teespring takes care of the following when integrating to the boosted Network. They;
Add your products to the boosted network

Optimize your listings

Handle your order fulfillment (no shit, that's why we love Teespring after all)

Handle customer service
And best of all there are no listing fees and a guaranteed profit margin across all platforms. With the strong relationship Teespring has with the platforms they are able to protect your campaigns unlike anyone else and gives you a better defense against all the shitty copycats.
Trusted Ratings
On top of all that Teespring gives you their "Trusted Ratings" by offering 1000's of positive product reviews, search engine favourability (Search engines love reviews) and they are the only platform to be in the top rated seller category on Amazon, Wish & ebay.
If you want to be included in the Boosted Network there are a couple of things you're going to need to keep in mind.
You want to maintain a high trust score, i.e. don't rip off other people's content (no deadpool and sports teams), drive consistent sales (they want to know the products will sell) and continually create fresh content (think seasonal products like halloween, Christmas etc).
If you're keen to get started and you already have decent sales on the board check out Teesprings guide on the Boosted Network.
Teespring Marketing
By optimizing your listings and maintaining a high trust score Teespring shows their favourability towards sellers who are doing the right thing. Thousands upon thousands of people are searching their marketplace each and every day so that alone is worth keeping a squeaky clean presence online.
There are 3 main drivers in Teesprings Marketplace, the marketplace itself, paid promotion (cost taken out of your profit margin) and email marketing. Below I'll give you an overview of each.
The Marketplace
Driven by an incredible amount of searches and powered by Teesprings own algorithm, there are key elements to having your products show up in the top results;
Listing keywords

Sales history (of a particular product)

Seller trust score

Optimization

Compliance with Teespring design policies
Paid Promotion
As with your normal retargeting Teespring offers a way to get extra sales from the people most likely to buy. Basic promotion is already covered and is a free service offered by TS.
Whilst you may lose some profit you need to realize that the sale is effectively there because of marketing they have done…what I'm saying is, don't kick a gift horse in the mouth.
Email marketing
Another fantastic service, email marketing provided by Teespring allows you to tap into other buyers niche lists. Sounds shady, but it's not. If you've got a hot product you want to get it in front of as many people as possible.
Teespring does this by sending your campaigns to an engaged list within your niches. POWERFUL.
Teespring's Tools & Resources
What sets Teespring apart from their competition (if you haven't worked it out already) is their dedication to seller success. They have put together some incredible tools & resources to make your side hustle into a booming business quick sticks.
Some of the tools they have created are listed below;
Teespring Design Policy – In order for you to have as much success with Teespring as possible you must adhere to their guidelines and the best place to start is understating your obligations.
Teespring Launcher file tips – Having the correct dimensions of a design on a product is imperative to receiving happy customer reviews. Make sure you or your designer is up to speed on the requirements for the best prints.
Teespring Profit Calculator – This tool is freaking awesome. Here you can either dream about the sales you're going to make, track what your profit should be or create a marketing plan with actual figures.
Teespring Training Centre – What better way to learn than from the platform itself. It gives you great insight into how to best use their service to get the most out of it.
Report Copyright Infringement – Something you will get used to very quickly is the number of copycats you will be up against. Don't let this put you off your own game as it is, unfortunately, part of the industry we're in and the reason I started Storehacks. Report it where and when you can.
Teespring's Youtube Channel – If you learn better with video then check this out.
Facebook Group – I have a lot of friends in this group and it has allowed me to connect with a ton of other powersellers. Reach out and learn from the questions other people are asking!
Teespring Success Stories
I am so incredibly grateful for everything Teespring allowed me to do, to create, to become. It was from their platform that I had my foundation for success. I am one of many people who created a much better life than they'd ever imagined, a life that you too could soon be experiencing.
It is hard for me to articulate exactly what Walker and Evan have created as it means so much to me and many others. I still don't believe they fully understand the impact that their early vision has had on so many lives.
From people living in poverty to your next door neighbor, Teespring has allowed thousands of people break free from lives they never wanted to live. If you need inspiration check out what the Rush boys have done, or Dan Nikas, or Kevin Reid. These guys have gone on to create mega businesses after their start with Teespring.
Teespring Pros & Cons
As with any platform, there are pros and cons associated with running a business in this style. I am going to start with the cons as I don't believe I can finish the article on a negative note. I truly hope that if you have the motivation and drive for success that you are able to start your journey with Teespring.
So here they are;
Cons
Less ownership over your own brand.

No control over fulfillment or product quality

It can get lonely

Product catalog contains only products that you can print
Pros
Low barrier to entry to get started

USA and European fulfillment bases

High-quality print and products

Low-risk business model

Work from anywhere with an internet connect

No monthly or ongoing fees

No minimum orders

Jammed packed with resources

Allows you to hyper-focus on key sales drivers i.e. Products & Marketing

Marketplace & Boosted Network allows for extra profits
Without a doubt, Teespring offers the best solution for platform-based businesses. With its low barrier to entry and the simplicity in which you can get started Teespring couldn't make it any easier for you to succeed online.
By joining their Facebook group or emailing them directly, there is overwhelming support for not only your initial success but for your continued success! They may not have the biggest product catalog on the internet however that certainly is no negative. Focused effort on key products will have you winning in no time.
Conclusion
While Teespring hasn't been without their fair share of controversy over the years it is safe to say they will be around long into the future. With their ever-expanding product catalog and the interest in e-commerce at an all-time high, their continued success is ensured.
By removing the backend of traditional e-commerce businesses allow for its sellers to focus in on the areas that make the most money and with Teespring delivering the highest quality products in the industry you could not find a more suitable partner for your start in e-commerce.
Teespring always has and always will remain at the forefront of the industry and while people continually struggle with the likes of dropshipping on Shopify, those on Teespring will have less competition and a lot more profit for the foreseeable future.
I just want to again say a massive THANK YOU to Walker, Evan and the team (and those I miss at TSHQ Vince, Bridget and Craig). What they allow so many people to do is an absolute inspiration. I love you guys!


If you've enjoyed this Teespring review or have anything you'd like to ask please do not hesitate to comment below!