Disclosure: Some of the links below are affiliate links, meaning, at no additional cost to you, Storehacks may earn a commission if you click a link to an external source.
Etsy is a marketplace that came to life as a place to buy handmade crafts. It's since evolved into one of the biggest online marketplaces where people can buy vintage clothing, cosplay items, digital artwork, and, well, just about anything.
However, it's one of those previously mentioned items that's a fantastic entry into the world of Etsy. 
Selling digital prints on Etsy. 
Selling digital downloads means you don't have to stress about holding physical stock, and you don't have to ship the prints. Any sale is profit, less the listing fees, and you need nothing more than a high-quality photo of your digital design. 
Etsy sellers use selling digital art on Etsy as a way to begin a brand. Their Etsy shop then starts to sell physical products with those prints, 
In this article, you'll see:
How to get started selling prints on Etsy

The benefits of selling digital downloads and prints

Print on Demand and the Etsy marketplace
Let's dive in. 
Why sell prints?
They're easy. 
It's as simple as that. 
Selling prints on Etsy is one of the most straightforward products to sell, and the Etsy platform is insanely simple to use. 
When a simple product meets a simple marketplace, of course, the competition is going to be fierce. But unlike power banks or phone cases, people are attracted to your art because of its uniqueness. 
Selling prints on Etsy is also a fantastic initiative because of the ways that you can sell them. 
You can decide to sell either
Physical prints of your artwork

Digital downloads
Or both!
Etsy makes it very simple to sell digital prints online. It's a little more complex to sell physical prints of your art, but luckily there are a host of Print on Demand (POD) services that make it much easier for you to get your products printed on just about anything you like and sold to Etsy buyers. 
Selling downloadable prints on Etsy.
Selling downloadable prints on your Etsy store is a fantastic way to launch and expedite the growth of a new Etsy store. 
The process is as simple as designing your print in whichever software you prefer and then uploading a high-quality file into Etsy. 
Your print is then listed for sale in your Etsy store for a price that you specify. Usually, this is between $10 and $30, depending on the intricacies and details of the design. 
Once someone buys your print, the customer has access to the digital that you uploaded. The customer has access and ownership of your artwork for them to print at their leisure. 
Many digital designers use this process to sell their own design services. For example, you're able to 'buy a new Facebook banner on Etsy, where the designer will design something according to your specifications. There's even a relatively large market for store owners that want to buy Etsy store headers, logos, and other branding assets. 
But there's more to it than just prints. 
Many designers also sell:
Fonts

Planner pages

Stamps

Watermarks
All these digital files are uploaded, sold, and downloaded within Etsy. 
The downloads never run out, and the customer doesn't have to rebuy your design once they've brought it once. 
Etsy makes it super easy to monetize your prints quickly, and ultimately your design skills. The benefit of selling digital downloads is also immeasurable. You make the design, upload it once, and never have to worry about running out of stock! There's no need for a manufacturer to get involved at any point in the process. 
Selling physical prints on Etsy
By selling your physical prints on Etsy, you're delivering a finished, completed product to your customers. By selling your ready to hang (or use) artwork, you're able to cater to a broader audience. People who are browsing Etsy looking for something to decorate or gift to a friend – a nice piece of art is the ideal solution. 
To many reading this, you may baulk at the idea of printing your art. Buying some high-quality large format printer seems like a costly experience. 
But that's not the case at all. It's this exact situation where the Print on Demand (POD) business model comes in and saves the day. 
Etsy recently changed their policy to allow POD sellers to sell their merchandise. This change means that you can take your digitized art, use a POD manufacturer and sell those products on Etsy. 
Simply put, people buy from your Etsy store, your art is then printed once the order has been paid, and then it's sent straight from the manufacturer to your customer. 
Learn more about the differences between POD and Dropshipping
Not only do you get to leverage the usual benefits of the POD business model, like not holding inventory, but you can now leverage the massive audience that buys on Etsy. 
Some popular third-party POD companies include:
Gooten

Print

Printify

Teelaunch

CustomCat
Luckily, all these companies integrate with Etsy and can be used to manufacture and deliver your Etsy prints. 
Physical or digital prints on Etsy – why not both?
So you've just seen how to sell digital prints on Etsy, as well as physical replications of your work. 
You're probably also now trying to weigh up which business model is best for you. Of course, one is a lot easier than the other. But when comparing selling art on Etsy to selling any other physical product, selling both digital prints and physical replications of your art is incredibly simple. 
So why not do both?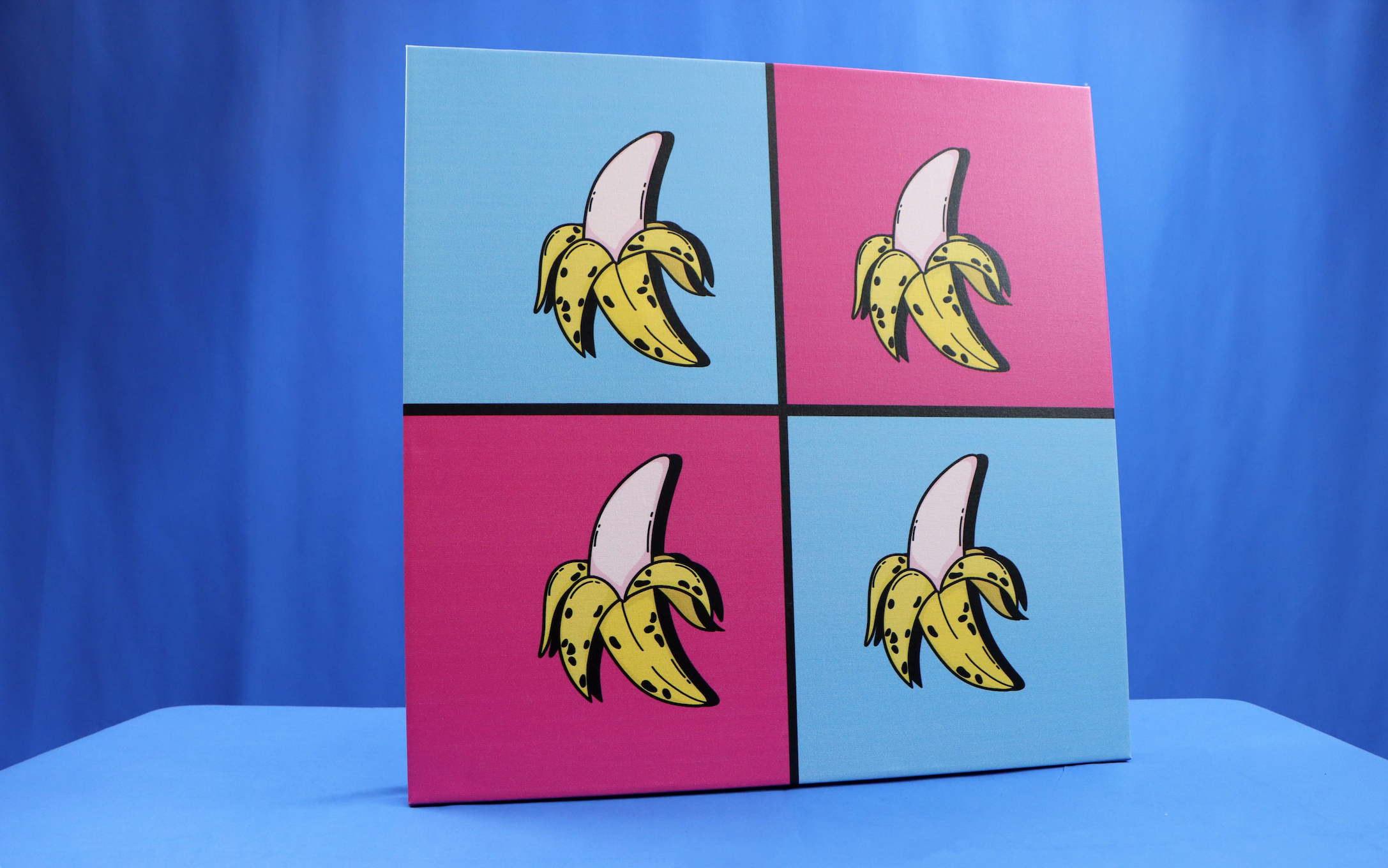 Source: Custom Cat
If someone truly likes your drawing of a pink flamingo and wants to download it, they'd probably also buy it on a small canvas. 
Consider selling both physical and digital prints, measuring what's more popular (and profitable), and adjusting what you're selling accordingly. 
Using mockups
Whether it's digital downloads or physical prints, it's essential to have high-quality and accurate images of what it is you're selling. 
For digital prints, it's evident that you want to show off the image that you're selling. But consider putting a watermark over it so that it can't be 'stolen.' But also consider showing how your image looks printed and hung on a wall. That is, after all, what most people downloading your image will do with it. 
Source: Printify
Most POD suppliers have a digital mockup generator, where you can upload your image. It superimposes your image into a frame that's on the wall, on a desk, or something similar. 
Use this service to create quality images, whether you're selling digital or physical prints. 
However, remember that many other sellers use this method of creating mockups. The result is thousands of pieces of digital artwork for sale, using the same house, the same wall, and the same picture frame to show it off. 
As a designer, open up photoshop and put your own image onto the wall of a house that's now used in every other Etsy listing. The more unique you can make your product photography, the more eye-catching and memorable it will be. 
Product listings & descriptions
One of the challenges that many digital artists face when selling their art online is describing it. You're buying a picture – once you see that image, that's what you're buying, what else can be said about it?
Consider using the product description of your digital art listing to describe how you create it – where you got the inspiration from, and the ideal way that buyers can use the art – could it make a good logo? Would it be a good team mascot? Suitable for a boy's 8th birthday or a young girl's sweet 16th birthday?
If you're selling physical prints on Etsy, you must describe the physical product that the artwork comes on, just as much as you tell the image itself. 
What's the size of the print? What medium does it come on? Paper or canvas? Is the canvas sealed after it's been printed? How is the artwork protected during shipping? Is it delivered flat or in a tube? How can it be hung on a wall?
Your product descriptions are also the ideal place to mention your return and refund policy, should a customer get their product and it's been slightly damaged in transit. 
Ordering tests & samples
If you've decided to sell physical prints of your artwork on Etsy, there's one thing that can make or break your store. 
The quality of the products. 
That's why it's absolutely critical that you spend the time (and the money) ordering test samples of the artwork that you'll sell. Many POD manufacturers allow store owners to buy discounted samples of their products to inspect and test the quality. You must use this service to the best of its ability to ensure that you're happy with the quality of the work that your customers receive. 
Ultimately, if a customer isn't happy with what they've purchased, that's your fault – even if your POD supplier printed the artwork. Etsy is known for being quite sensitive when it comes to unhappy customers, so one too many negative reviews, and you can expect your Etsy store to be shut down permanently, no questions asked. Quality is up to you. 
Remember – you're creating a brand
When selling on Etsy, it's important to remember that you're not just selling products. You're creating a brand. 
Many people who turn to Etsy to buy things do so because they want to support artists or purchase something from a small brand that has a history. 
This is the type of brand that you need to create. That means creating a brand logo, banner images, a tone of voice, colour palette and many other things. 
Spend the time creating a brand book, imagery, design and style guides that your brand will use. If you're selling in your stand-alone ecommerce store, you probably already have such guides. So put them to use on your Etsy store. 
Learn more about the differences between Shopify & Etsy here
When setting up your Etsy store, you're able to link back to your website. This is important to show customers that your brand isn't just an Etsy brand, but it has a life of its own. 
Remember to go above and beyond the expectations of your customers. This means that you'll keep them happy, and they're more likely to buy from you again. As an ecommerce entrepreneur, the challenge for you is figuring out how to get your Etsy customers to return to your stand-alone website rather than your Etsy store!
Protip: adding POD means more products
As you've no doubt already guessed, using a POD manufacturer means that you can sell more than just printed canvas with your art on it. 
You're able to have your artwork printed on cups, T-shirts, tote bags, sweaters, pillows – just about anything. 
While it may seem enticing to put your artwork on everything, and then sell it, consider the challenges associated with this:
If you're selling digital art, people are buying your art because they like your design. 
If you venture into the world of T-shirts, you've put your brand and design into a niche that's a lot more competitive. 
If you start selling pillowcases with your watercolour artwork, you're suddenly going to be competing against every other pillowcase design that's for sale on Etsy. 
If you've got the resources to compete in these niches, by all means, do so. Some simple Etsy SEO tweaks, quality product photos and great descriptions can be all that's needed to get your listings to the top of a search. But doing that requires constant trial and error. 
Over to you
Selling prints on Etsy is an easy and efficient way to establish a profitable online brand. As a digital artist, you already possess the most complex skill of selling art on Etsy – design skills. As you've just seen, it's not hard to upload your digital files onto Etsy and sell them. But with a little more research and groundwork, you can use a wide range of POD suppliers to sell not just your art on canvas but many other accessories.