Disclosure: Some of the links below are affiliate links, meaning, at no additional cost to you, Storehacks may earn a commission if you click a link to an external source.
Want to build trust and have customers converting with less hesitation? Use this Return Policy Template to do just that!
Having a well-written return and refund policy in your online store can build trust with sellers who are buying from you for the first time.
Why?
Because trust is everything in the world on online retailing.
If your customer is hesitating to commit to a purchase, they want to be sure that returning the item won't be difficult or expensive.
In fact, studies have shown that free product returns have a massive impact on future sales. Brands like Zappos have a return policy that drives traffic to their website, it's that good.
However be too generous with your return or exchange policies and you may be taken advantage of.
So do you offer a full refund for life with no questions asked, or do you limit to a 30 day period, only if there's a problem?
Well in this article, you'll learn that as well as:
How to create a killer return policy

Is a no return policy legal?

Great ecommerce return policy examples
So let's get stuck into it, so you can learn how to best take care of your customer's returns!
Return, refund or exchange?
Let's clear up some the meanings of some similar but still different terms.
Refund = you give some or all of the customer's money back
Return =  you give some or all of the customer's money back
Exchange = a customer sends a product back in exchange for a similar product, or credit towards another.
It's worth noting that your refund and return policy should state:
The amount of money that a customer gets back (they usually pay for shipping)
The reasons that a product can be returned/refunded (faulty, change of mind etc)
The time period that a customer has to ask for a return, refund or exchange
There are also more specifics that you need to mention, such as returns on sale items or the need for original packaging, but we'll look into that a little later.
What is a return policy?
A return policy is a document where you inform customers about their rights to return a product and get a refund.

More often than not, the word return means that a customer sends the product back for a refund of their money.
In order to build trust and give your customer peace of mind, you might like to cover the cost of return shipping for your customer to send an item back. This way, your customer knows that they won't be left out of pocket.
Next, your policy should also state how the money will be refunded.
Note: Be clear whether you'll offer to send the money back to your customer or if you'll give them store credit. Store credit = exchange, as no money is given back to the customer.
Why you need a return policy in ecommerce
First of all, every ecommerce store must have some kind of return policy. There aren't many states or countries where it's legally acceptable to say 'all sales are final', 'no returns' or 'no refunds'.
The same applies to retail stores.
Why do you legally need a return policy?
For starters, it's there to protect consumers from dodgy merchants. Selling a product that's backed by a legal return policy means that the consumer is sure that they're not getting ripped off.
Here's the return policy of Frank body. Take a read and see how it build trust with the reader!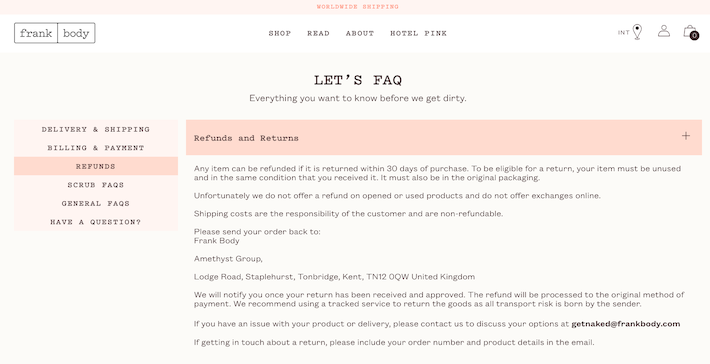 Without a legal need for a return policy, merchants could sell one product, ship another and the customer is screwed over.
But you need a return and refund policy to build trust in your store, too.
By offering a detailed and lenient return policy, you instil trust in your brand name, your products, and your entire business operation.
In fact, research suggests that return policy transparency can increase sales and decrease returns.
Return & refunds – what the law says you must offer
In the United States, the laws are determined by the state. However, the Federal Trade Commission (FTC) won't hesitate to step in if there's the slightest feeling of fraud by either party. They'll also get involved if they think you're dealing with anything illegal, too.
14 states require sellers to display their return policy in an obvious place, both online and in a store.
The other 38 states don't require these policies to be displayed and leave the options of returns up to the retailer.
In the EU, customers can only return a product if it's faulty. Many retailers take their return policy into their own hands and are a little more lenient.
In the UK, you must offer a refund if the item is faulty, damaged or isn't as described.
For Australia, returns are governed at a federal level by the Australian Competition and Consumer Commission (ACCC).
It states:
'Retailers are not required to provide a refund or replacement if you change your mind. But you can choose a refund or exchange if an item has a major problem.'
More information can be found on the ACCC website.
Returns and drop shipping
As a drop shipper using Oberlo or AliExpress, you're selling a product that you don't physically have in stock. Instead, it's sent to your customer directly from the manufacturer or supplier.
Because of this, the return policy isn't up to you – it's at the discretion of the manufacturer or supplier.
Take a look at the company profile of your Alibaba or Oberlo supplier carefully!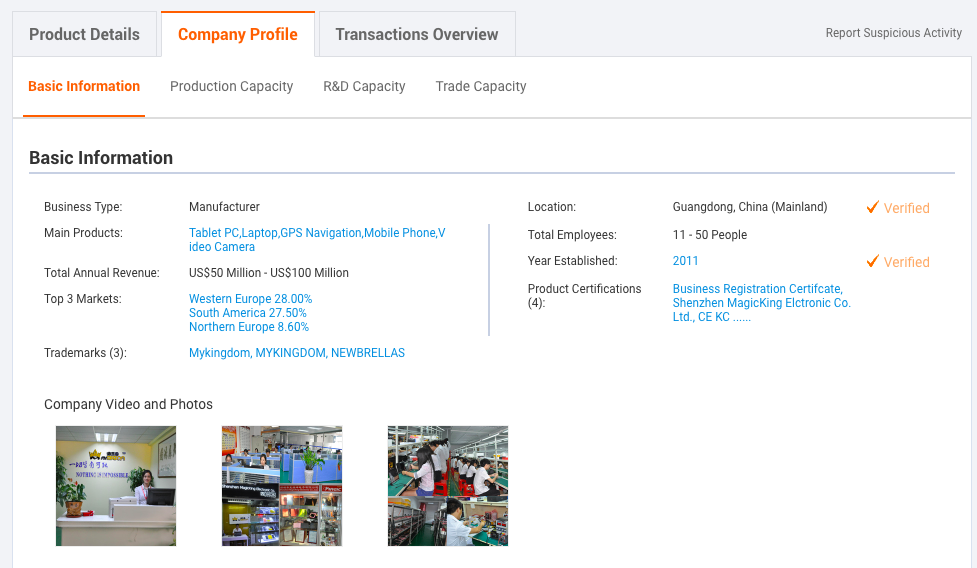 You need to be incredibly careful of who you decide to use as your supplier. Before deciding to use a certain supplier, check for the following:
Do they accept returns?
How long can a customer return a product?
Where are they sending the product to?
Do they cover return shipping fees?
How do they handle the return process?
Do they refund an item or exchange an item?
Then keep in mind that your return policy will be that of the manufacturer. 
This can pose a problem for your customer satisfaction, as well as your brand image. If you're an American brand and selling to an American audience, how will your customer feel when they have to send a product 'back to you' in Xiaozhangzhen province?
When drop shipping, it's important to be proactive with your return policy. Take the policy of your manufacturer and rewrite it yourself. If the manufacturer offers a 30-day return window, make your return policy 20 days to cover shipping times.
There are a few difficult parts about dropshipping, and returns and refunds are one of them. If you chose to use this business model, you need to get involved and make sure that all returns are handled in a professional and trustworthy way.
What to put in your return policy
Writing your return policy is just as interesting for you as it is for your customers to read it.
Don't make it too complicated.
Keep it short and sweet, mention only the most important parts but be clear and concise.
Things to include:
The reason

that a customer can ask for a refund – change of mind, wrong size, faulty

The number of days

a customer has to ask for a refund – 30 or 90 days, or a lifetime?

The type of refund

– store credit, a total refund or a refund less shipping

The way you'll give the money back

– your prefered method or the same method that the customer paid

Where your customer needs to send the product

and if they need to print a return label

How long it will take

to receive the money back or the new item.
Zappos is known for a world-class returns policy:
Some more tips:
Just be honest.

If you're out to take advantage of customers with your return policy, your business won't last. If you screw up, show initiative and rectify the problem.

Avoid words like

'you must' and 'you need to'. These intimidate your buyer and don't build a positive experience.

Use simple English

and avoid legal wording of topics. Not all your customers are lawyers.

Don't charge people to make a refund.

No one actually wants to return a product if they don't have to. Don't make your customer pay you for returning a product.

Make your policy easy to access.

If a buyer wants to find your policy but can't, they won't ask, they'll just leave.

Visually represent the process

that a customer must go through in order to issue a refund. People are visual creatures, so use illustrations where possible.

The return process for Lightinthebox is visual, making it easier for a frustrated customer to return their item.
Why you shouldn't have a 'no refund' policy.
Completely banning any kind of return or refund only protects you, the merchant.
And sure, while you may be worried about getting screwed over by some shady customers, announcing that you have NO REFUNDS FOR ANY KIND OF REASON makes you look like a shady retailer.
If a customer wants to return or exchange a product, a no refund policy isn't going to help them. They'll be left unhappy with a faulty product. Chances are that an unhappy customer can do a lot more damage for your brand name by leaving a bad review.
Furthermore, your competition probably has a generous returns policy. If a customer can't decide between your product and your competitors, they'll go for the one with the more generous return policy.
Refund and Return Policy Examples
Now that you know what to include in a good quality return policy, let's take a look at some of the best ecommerce return policies out there.
Both big and small ecommerce brands have return policies, but do they differ in any way?
ThinkGeek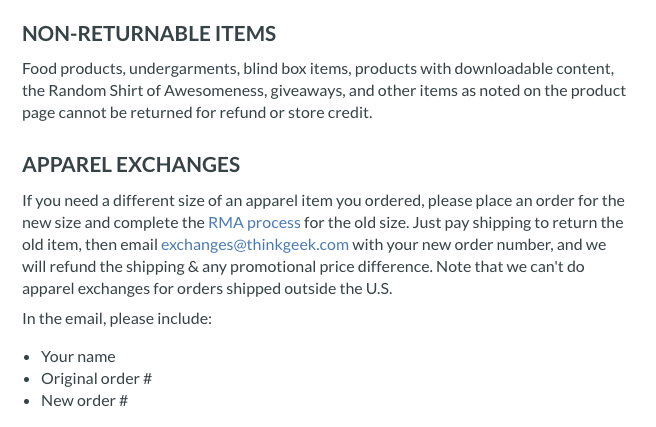 ThinkGeek have a pretty standard return policy. They regularly have flash sales to move end-of-season stock and don't accept returns or refunds on such items. 
If you do need to return an item, you need to fill out a form and start a simple process.
What we love best about ThinkGeek's return policy is just how simple it is. It uses clear concise English. 
Sephora

Cosmetics company Sephora is interesting, as their online return policy applies to both their online and retail stores.
Returns are free if you fill out their pre-paid shipping label to send an item back. You also have a lenient 90-day return policy. 
GearBunch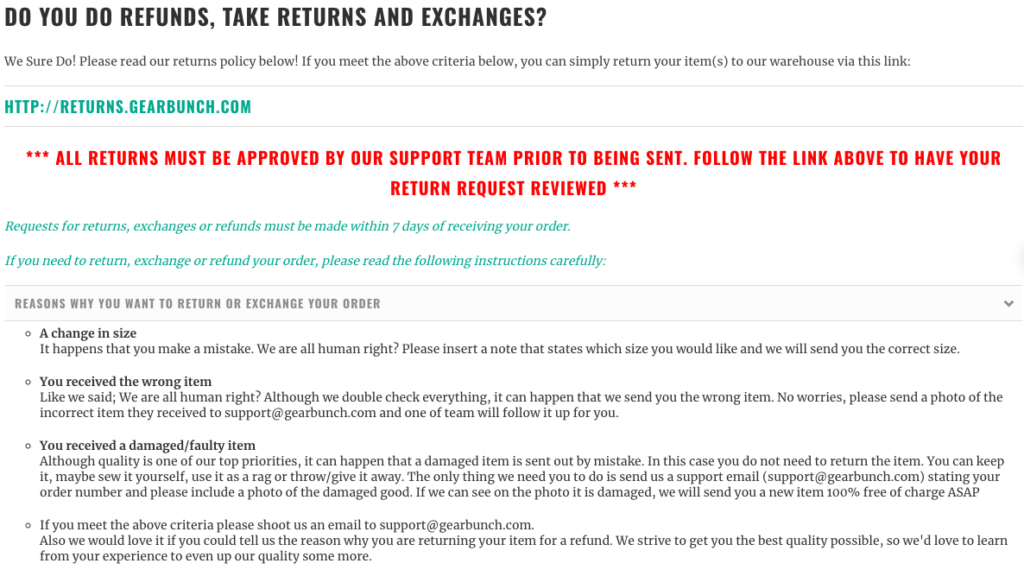 GearBunch sells mainly leggins and yoga wear for women. Leggings are a weird item of clothing, any girl will tell you that it's hard to get a pair that looks good and fits good. As a result, many women have had to exchange a pair of leggings for a different size. 
The GearBunch team spet this process up by creating a 'return request' to keep the information for each return in one place.
Rusty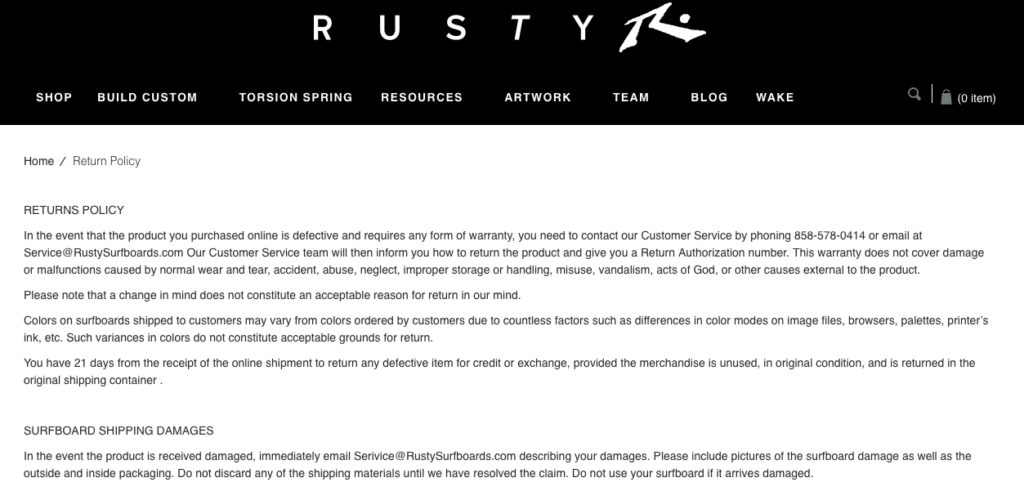 Rusty surfboards are a little different. A surfboard isn't exactly something you can put in the mailbox and send back.
As a result, their return policy basically says 'just call or email us, it'll be easier'.
MVMT Watches

MVMT Watches are a brand that's taken off really quickly in the last years. As it result, it's had to deal with its fair share of returns.
They've used to design to streamline the return process and integrated it with an FAQ. This makes the process of returning an item a little easier and less frustrating for your customer.
IntotheAM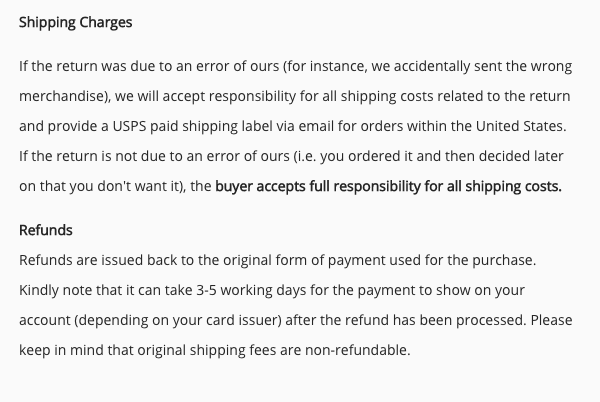 The policy clearly states the way the money will be returned and how long that'll take.
Sample refund policy templates
Now that you've seen some great return policies, here are a few templates to get you started with your own return policy.
Generic refund template
If for any reason you're not happy with your purchase, please tell us immediately. We offer a full money-back guarantee for all online purchases. 
It's ok if you changed your mind. These things happen. We'll even cover the cost of return shipping. 
If the product is faulty, we will refund your money or send you a new item – your choice. 
If you purchased the wrong size or we sent the wrong item, we'll swap it over no questions asked. 
To start the process, please send us an email with the following information:
Your name
Order number
The issue (faulty product, wrong size)
What you'd like (exchange or refund)
Now for the nitty gritty – you have 30 days from the date of purchase to issue the return request form. after 30 days from the date of your initial purchase, you will not be eligible to exchange or refund your item. 
If you have any questions, please don't hesitate to email us. 
Sample refund policy for physical ecommerce purchases
Thanks for buying from . 
In order to return or exchange your purchase, you need to do so within 30 days of purchase. The product must be received by us in the same condition that you received it in. Original tags, box, unworn, undamaged and able to be resold. 
We do not accept returns on perishable items, intimates, gift cards, custom items or digital products
After we receive your item, we will inspect the item(s) and process your refund if the item is in resellable condition. 
Your money will be refunded by the same method you paid for it. This may take between 5 and 10 business days, depending on your payment method. 
Customise these templates for yourself
These templates are just a starting point and will obviously have to be customized according to your own policies.
That means more than just substituting your name. Use this as a starting point to create a return policy that is a unique selling point in itself.
Over to you
Using these simple return policy templates, you can launch a store and be sure that you won't be taken advantage of. 
Returns are never fun. Returns add to the workload of both the seller and buyer when both parties have other things they'd rather be doing.
But by using this return policy template as a base, you can create something that'll keep you protected and build trust with your customers.
What are some of the best return policies you've ever seen? How has your return policy built trust with your customers?
Let us know in the comments!