Disclosure: Some of the links below are affiliate links, meaning, at no additional cost to you, Storehacks may earn a commission if you click a link to an external source.
In this Gearlaunch review, I share with you my experience of having sold over $10,000,000 of print-on-demand products.  Each and every day, eCommerce entrepreneurs are using the dropshipping model to create a brand, generate revenue, and sell products. GearLaunch is a print-on-demand company that can help you do just that.
If you're looking for inspiration on how crazy the POD industry can be make sure you check out how I did $732,701.35USD with Print On Demand Jewelry. 
GearLaunch is a POD fulfillment partner (print on demand company) that makes starting your own online eCommerce store a lot easier than it usually is. It's a company that has stood the test of time and been around since I started in the industry circa 2014.
Like all P.O.D suppliers, your designs are printed onto a product when a third party (your customer) places and pays for their order.
What makes GearLaunch different from all the other POD services is the wide range of products that your designs can be printed on.
Plus, you're able to sell under your own domain. Unlike many other POD services, you can use GearLaunch to sell your products on your own website (specifically on Shopify).
In this article you'll discover:
A deep and comprehensive GearLaunch review
How to use GearLaunch to sell t-shirts
GearLaunch vs Printaura vs Printful
So without wasting much more time, let's get started and take an in-depth look at GearLaunch!
What is GearLaunch?
GearLaunch provides merchants with a complete set of tools to source custom-designed print on demand products and deliver them to the customers.
The most attractive feature for me comes down to a few key benefits.
Free refunds & exchanges*
They take care of the customer service (great for international or non-english speaking sellers).
Most orders are printed and shipped within 48 hours
Dedicated account managers
And as I am an affiliate I can get you Silver Tier pricing on signup.
From the CEO, Thatcher Spring
"GearLaunch is investing big right now to expand the platform's offerings within the apparel, homewares and accessories categories, beginning with home decor, which includes many new and innovative wall art products.
Look for GearLaunch to make vast improvements in product visualization and rendering during Q3 and Q4.
We know that the second most important thing to producing a quality product is making that product look amazing on the web so that buyers convert better and e-commerce becomes more frictionless."
GearLaunch & Shopify – A power couple in the making
I have been working with GearLaunch for about 6 months now on forming a partnership agreement. As you know, the focus of my blog is to create an ecommerce environment where the customer is treated with the respect they deserve.
In saying that, I wanted to team up with a fulfilment company that held the same beliefs as me. They have had their fair share of troubles over the years and from our discussions I believe they have turned a new, invaluable leaf.
I don't believe anyone would have gone to the lengths as I have to ensure that my referrals are also treated with respect as it is my name that is being associated with the company.
In saying that, your experience may be incredibly different to mine. I have the trust of the industry on my shoulders and I continually reinforce that fact to GearLaunch.
If you're considering using GearLaunch test with a few smaller orders first, MAKE sure they look after you and are delivering a quality product to YOUR customers.
Now, with that out of the way, this is my experience thus far with GearLaunch. It hasn't been perfect, it hasn't been without its hiccups, but one thing it has been is a test to see how far GearLaunch will go to succeed on their promises.
The Launch
About 6 weeks ago my business partner Suhail and I launched a new store. Our focus was on Print on Demand shirts in 2 outdoor niches. Being an international seller moving product into America can be more costly than doing from within the country itself.
So, when we start we try to use PayPal (our USD Currency) on all apps to navigate around the international transaction or currency conversion fees.
When GearLaunch first plugged in they didn't offer the option to use PayPal so we had to use our Credit Card. Unfortunately, this forced a miscommunication between GearLaunch and our store and resulted in a payment loop that resulted in our orders being held.
How they fixed it – Customer Service
With all that was going on our orders ended up being about 7 days behind schedule which can quickly become a nightmare for a new store wanting to scale.
GearLaunch worked their asses off around the clock to make sure every email that came through was answered very quickly and each interaction went from being a negative experience with our company to a positive one.
To have a company willing to take care of the customer service is HUGE in this space, particularly when it's the company that is controlling the fulfillment.
Having a dedicated account manager was a massive help throughout this period as well. It served as a sounding board and a way to get any problems actioned immediately.
To say GearLaunch went above and beyond was/is an understatement and I am super confident they will help you succeed with your Shopify store as well.
Shopify Setup
The setup is very easy. Once you have signed up (click the banner). One of the team will get back to you with a link to install the app. If you signup without clicking the banner you will be charged $4.99/month to use their app.
Once you are in you are golden, and can get started right away with launching your campaigns.
STEP 1
Uploading your design is as simple as clicking "Create Product".
STEP 2
On the right-hand side of the screen select "Add Products" and select the items you want to be uploaded.
STEP 3
Set your pricing. Don't be afraid to test higher prices than what you're used to selling. You now have more fees to cover having to run a Shopify store and these need to be reflected in your margins.
Branding is also another aspect that should play a huge part in your strategy and by setting yourself up as a premium brand you can stand to charge a few dollars extra.
STEP 4
"Add image" and adjust to suit.
STEP 5
Add your product title and description. Be sure to use your keywords in the title and description in order for Google to understand what products you are selling.
STEP 6
Sync to Shopify.
And that is it. You are now ready to run traffic to your store and bring in all those thousands of sales. If you want to know how to find profitable tshirt niches then check out this article.
One of my favorite features of GearLaunch is the Bulk Clone feature. It goes from taking hours to upload all campaigns to minutes. An absolute time/sanity savior!
GearLaunch review – Getting started in 4 steps
Using GearLaunch as the source of your product is simple. Take a look at the following process to see how GearLaunch can be used in your ecommerce store:
STEP 1
As a seller, you upload your designs to the Gearlaunch 'Design Suite'. Next, you select the products that you'd like to offer your designs on.
STEP 2
Next, you create your own online store using the Gearlaunch ecommerce platform. Upload product images, product descriptions, and other details and get your store ready to launch.
If you're using Shopify, this is where you can connect your Gearlaunch account to your Shopify store – no need to use the Gearlaunch platform!
If you decide to use the Gearlaunch platform, now is the time to upload branding, imagery and other elements. Turn your Gearlaunch website into the home of your brand!
It's worth noting that you can also attach your own domain to your Gearlaunch store and remove all the Gearlaunch branding.
This is one of the benefits of using Gearlaunch – your own brand under your own domain.
There's no way for your customers to know that a third-party is responsible for creating your products once they've been ordered.
STEP 3
Next, it's time to launch your store. That means undertaking the traditional ways of marketing your online store.
STEP 4
Once your store has been up for a while and you've had a few sales, you're able to use the Gearlaunch backend to track a wide range of data including:
Conversion rate

Most popular products

Highest converting sources

Most profitable products

…and much more.
All this data is updated in real-time. That means that you can make the best decisions about the direction of your brand based on what's happening now – not last week or last month.
Is Gearlaunch a scam?
No, it's not.
It's a company that employers a wide range of skilled individuals with the goal of shaking up the ecommerce world.
It's worth noting though, that bad news travels fast. Individuals who are happy with their purchase rarely jump online and say 'Oh my gosh I'm so happy with my purchase'.
Many people use social media and other public forums to voice their problems, and this is the reason that there is a lot of bad news online about Gearlaunch. No news is good news, and bad news travels fast.
Gearlaunch ship times
One concern of many retailers who use a POD service is how long a product takes to ship after being ordered.
This is one of the downsides about the Print on Demand industry, but Gearlaunch has done a lot to quell those fears.
In most cases for nearly all products, orders are shipped out within 48 hours of being ordered.
Gearlaunch delivery time
Many people in the past have raised concerns about delivery times from Gearlaunch. Delivery times vary in all parts of the world.
For example, it's going to take longer for a product to reach the US from Asia than it will reach Australia.
Therefore, it's hard to give one definite answer about Gearlaunch delivery times. From the research we've done, we can see that people in the US receive their shirts in as little as 5 working days.
Gearlaunch & dropshipping
The POD ecommerce model is based on dropshipping. You, the merchant, have no physical inventory. Instead, you sell products that are made (in this case, printed) when a customer commits to buying them.
Using Gearlaunch as your POD supplier, you will be drop shipping, and reaping all the benefits of doing so!
When someone places an order in your store, the order will go through to the Gearlaunch as well. The ordered product will be made as per your customer's specifications, and then sent to them.
Dropshipping is beneficial for you as it means that you don't need to purchase products before you sell them. This lets you keep control of your cash flow, and pass those savings onto your customer.
Gearlaunch & Shopify
If you're familiar with Shopify, you're in luck! Gearlaunch integrates with Shopify to let you easily use both platforms in perfect unison.
Shopify has an insane number of apps ready to use. Using the GearLaunch app in your Shopify store means that you're able to use all the features of both platforms.
Use Shopify's store templates and marketing features to present your customized GearLaunch products to your customers.
Orders in your Shopify store are automatically sent to GearLaunch where your products will be made as they're ordered.
What's great about this setup is that you're able to use Shopify's complex marketing tools to attract and retain more and more customers.
Powerful marketing tools combined with a quality drop shipper put your business in a great position for rapid expansion and growth.
Selling GearLaunch shirts
By far, one of the most popular products to drop ship is t-shirts. They're cheap, easy to make, and very versatile – nearly any design can be put onto a shirt.
It's important to remember not to breach any copyright laws. You're not allowed to use imagery that has been trademarked by another company.
There's the odd drop shipper that ignores this rule and ends up going to court and has to pay out an insane amount of money.
All it takes is a little creativity to create something unique that a lot of people would love to wear on a shirt. Check out this article for an idea to put on a shirt!
Gearlaunch product list
One of the biggest benefits of using Gearlaunch as your POD supplier is having access to a huge range of products that your designs can be printed on.
Nearly 20 different kinds of t-shirt
7 different kinds of long sleeve sweatshirts
6 sizes of canvas prints
Over a half-dozen pieces of drinkware
22 kinds of phone cases
You're also able to have your design printed on flags, hats, poster paper, and even pillows.
How does this benefit you? It means that you can customize designs for each specific product – not every design has to be ideal for a shirt.
Idea: Is your ideal customer religious? Have a prayer printed on a pillow. It's not hard to think of a unique design that can go on something other than a t-shirt!
Gearlaunch FAQ
Still got a question about Gearlaunch? I've done some of the research to answer some of the most common questions about POD dropshipping using Gearlaunch.
Where can I see a Gearlaunch sample?
There are no POD suppliers that offer samples before you inspect the product.
If quality is one thing that you want to be sure of before you start selling using Gearlaunch, there is a way to get a cheap sample to inspect the quality. The way to do this is to buy from yourself!
Let me explain.
Sign up for your Gearlaunch store and set everything up as you would like. Once your store is set up and ready to go, buy the products from yourself.
Yes, this will cost you money, both in buying the product and in fees and shipping, but it gives you peace of mind.
By having the product sent to yourself, you achieve a lot of things that many other POD entrepreneurs overlook.
You are able to inspect the quality for yourself.
You're able to see how long the product takes to get to you after being ordered.
Assess the way that your customers can track their products.
Once you have the product in hand, you can use it to take unique product photos.
This is something that many drop shippers don't do. By doing this, you give yourself a unique advantage over all your competitors.
You have your product in hand and you can make a decision about all aspects of the product.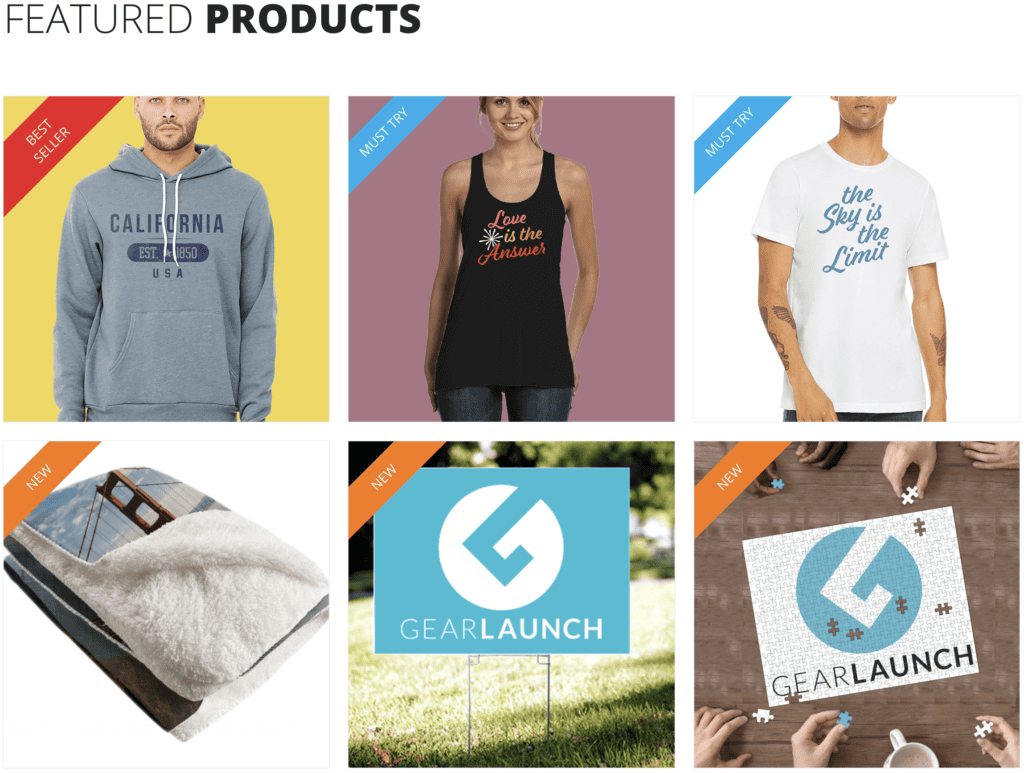 Gearlaunch customer service
Making sure that their customers and the customers of their customers are happy is a high priority for Gearlaunch.
Gearlaunch provides a service hotline between 9 am and 5 pm PST. As stated on the Gearlaunch website, they aim to answer each and every question within 4 hours of receiving it.
GearLaunch also gets in contact with your customer if they have a question or don't receive their purchase.
This means that you're not responsible for customer service, but Gearlaunch themselves will be responsible for your customer's satisfaction.  This is a service that not many other POD suppliers provide!
Gearlaunch VS other POD suppliers
There is a wide range of POD suppliers. To make sure that you make the best decision for the longevity of your brand, we've compared the most popular POD suppliers to Gearlaunch.
Printful vs Gearlaunch
There's no doubt that Printful is one of the most popular POD suppliers around right now. One problem that a lot of Printful users have is their high prices and fees.
This means that the merchant can't add a whole lot of profit to their product while still making it attractive to the customer. It's worth noting that the cheapest t-shirt costs $8.95 from both suppliers. But with the Silver Tier pricing, you receive by signing up through Storehacks the cost of the shirt comes down to $7.65 (with the customer service included!).
One benefit that Printful has is the fact that you can have your products embroidered. This means that you're able to create business shirts and other 'official' or 'formal' looking clothing.
Printaura vs Gearlaunch
Printaura is another very popular solution in the POD world. They apparently have been around for a long time and boast cheap products, no listing or sales fees, and Etsy integration – some features that GearLaunch just can't compete with right about now.
In saying that, in all my years of eCommerce I have never heard of Print Aura, nothing, nada, zip.
While GearLaunch products are cheap, it seems that Printaura products are in a similar price range (before taking into account the Silver Tier pricing).
One of the downsides of Printaura is that many people feel the user interface is 'clunky' and somewhat counter-intuitive.
It takes a while to learn how to do something. After using the GearLaunch platform for a few days, I found it quite simple to use and just as easy to navigate.
Why choose GearLaunch?
GearLaunch is a young company in terms of Shopify integration. It's only now just fighting back from the teething problems that caused some trouble for many users a while ago. Like any other company, they still run into them.
GearLaunch is a great POD supplier with good products and an easy to user-interface.
What's more, things just work. Quite often it's difficult to get a custom-designed idea to come out onto a shirt or other product the way you intended.
But since GearLaunch is the design studio as well as the printer, you, the user, has access to a lot more flexibility.
In conclusion
It's hard to hide the fact that up until earlier this year a lot of buyers had a problem with GearLaunch. To be honest, we still have problems and it is incredibly frustrating, but in saying that, every platform has its own problems. I urge you to do your own testing with GearLaunch before fully committing to using them to see what the experience is for you.
Since these problems have come to light, the company has seemingly listened to a lot of user feedback and changed and developed the platform for the better of the users. Time will tell just how important the feedback has been to their business.
If you've ever used a POD drop-shipper before, you know it can be difficult to have your store, orders, and customers synced over all sales channels.
Happy selling!