Disclosure: Some of the links below are affiliate links, meaning, at no additional cost to you, Storehacks may earn a commission if you click a link to an external source.
The top secret strategy to Facebook dynamic product ads will keep fresh ads in front of the visitors who have already seen your store. Keeping them engaged and falling in love with your brand is vital to your stores overall success.
With peoples attention spans getting shorter we need to keep relevant and sometimes interrupting (yet still professional) advertisements in our customers feeds.
It is through retargeting that we can get to know our customers more intimately and have tailored messages going to them to help them feel comfortable with your brand.
DPA ads help with displaying the correct products to the right people with different messages at the correct time in their journey to checking out.
In this guide I will show you;
How create Audiences for Retargeting
Audience Setup for Funnel
How to create product catalog ads
Discount code implementation
The Step-by-Step funnel
This is the exact funnel we use to unlock $88,475 off $19,831.22 in ad spend.
The Top Secret Step-by-Step Strategy to Facebook Dynamic Product Ads
To be able to setup this Retargeting Strategy you will need to have a DPA Catalog already created on Facebook for your store. If you don't know what that is or how to set it up check out How to Set Up a DPA Feed for Shopify.
This is a strategy we have come to love as it has provides consistent results for months. The reason being, it's continually showing new content to the retargeting audience so the content remains fresh.
While the setup may seem overwhelming, once it is in place you can set and forget and reap the rewards for months to come.
Creating the Audiences for Browser or Cart Abandonment
When it comes to retargeting being innovative is key, creating ways of re-engaging with customers is crucial once they have left your site.
We always run our own retargeting in conjunction with other apps (Shoelace Retargeting) as there are always more opportunities available.
Now this is high level stuff. No longer is it 1 retargeting ad per product, it is offering a variety of options throughout a customers journey.
The Audiences
The first 0-3 days is the sweet spot for getting those potential customers returning and we create the retargeting audiences as follows;
0-3 Days – Exclude Purchasers – No Discount – DPA
3-7 Days – Exclude Purchasers – Exclude 3 Day Audience – 10% Discount – DPA
7-14 Days – Exclude Purchasers – Exclude 7 Day Audience – 15% Discount – DPA
14-28 Days – Exclude Purchasers – Exclude 14 Day Audience – 20% Discount – DPA
28-90 Days – This is considered the win-back pocket. Steep discounts are the way back if we are going to convert this audience. Taking the hit here will be worth it for the overall LTV.
How to Set Up the Audiences Correctly
Step 1. 0-3 Days Audience.
From your Audiences tab in business manager click "Create a Custom Audience"

Click Create a Custom Audience

Select "Website traffic"
Select the correct pixel (it should be green from all that traffic you've been sending through it).
Leave the option selected as "All website visitors" in the past "3" days.
Next,
When you get to the advertising be sure to exclude the previous audience in the list, i.e. When retargeting with the 3-7 Day Audience, exclude the 0-3 Day Audience.
The below screenshot is from the Ad Set level when setting up your campaign.

Continue this process until you have created the full sequence of audiences, then move on to setting up your ads.
Create Your Dynamic Product Catalog Ad
This is where it all starts coming together. Now that the audiences have been created, this guide will walk you through how to use them in conjunction with your Product Catalog on Facebook.
If you haven't setup your catalog then follow this guide here "How to Set Up Dynamic Product Ads for Shopify"
0-3 Day Specific Product Ad
Customers can abandon shopping carts or just drop off the site for a variety of reasons.
Bringing the visitor back to what they were looking at is key and it's your job to help them finish the process of checking out.
The Ad
Step 1 – The Campaign
Select "Catalog Sales"
Choose correct catalog and name your campaign. We name them with a consecutive number so we can quickly find the campaigns we are working on. As previously discussed.

Step 2 – The Ad Set
Name your ad set "0-3 Day Audience – Excluding Purchases."
Select "All Products" from the Product set dropdown menu.
EDIT: There are now several ways you can create these same audiences. When creating your ad set you can create a "Custom combination" with the same setup.
Alternatively, configure as per below.
Targeting worldwide will ensure you are targeting all customers that have viewed your products.
People may show their family and friends that may not live in the country you were originally targeting. This will also retarget those who stopped by after finding your site from other platforms or search engines.
Set your budget at $10/day if you're just starting out and haven't run any top of funnel traffic. Alternatively you'll need to adjust according to the size of the saved audience if you have been running top of funnel traffic.
Step 3 – The Ad
Name the Ad "0-3 Day Audience Excluding Purchases"
Select the correct page and Instagram account. If you don't have an insta account choose "Use the selected Facebook page"
Choose "Carousel" for Format
In the "Links" section choose your See more URL.
Put your copy in the box box provided.
👋 🛑 Did life get in the way? We know life gets busy so we've kept your order in your cart! 🛑 😁

Come back now to finish your purchase!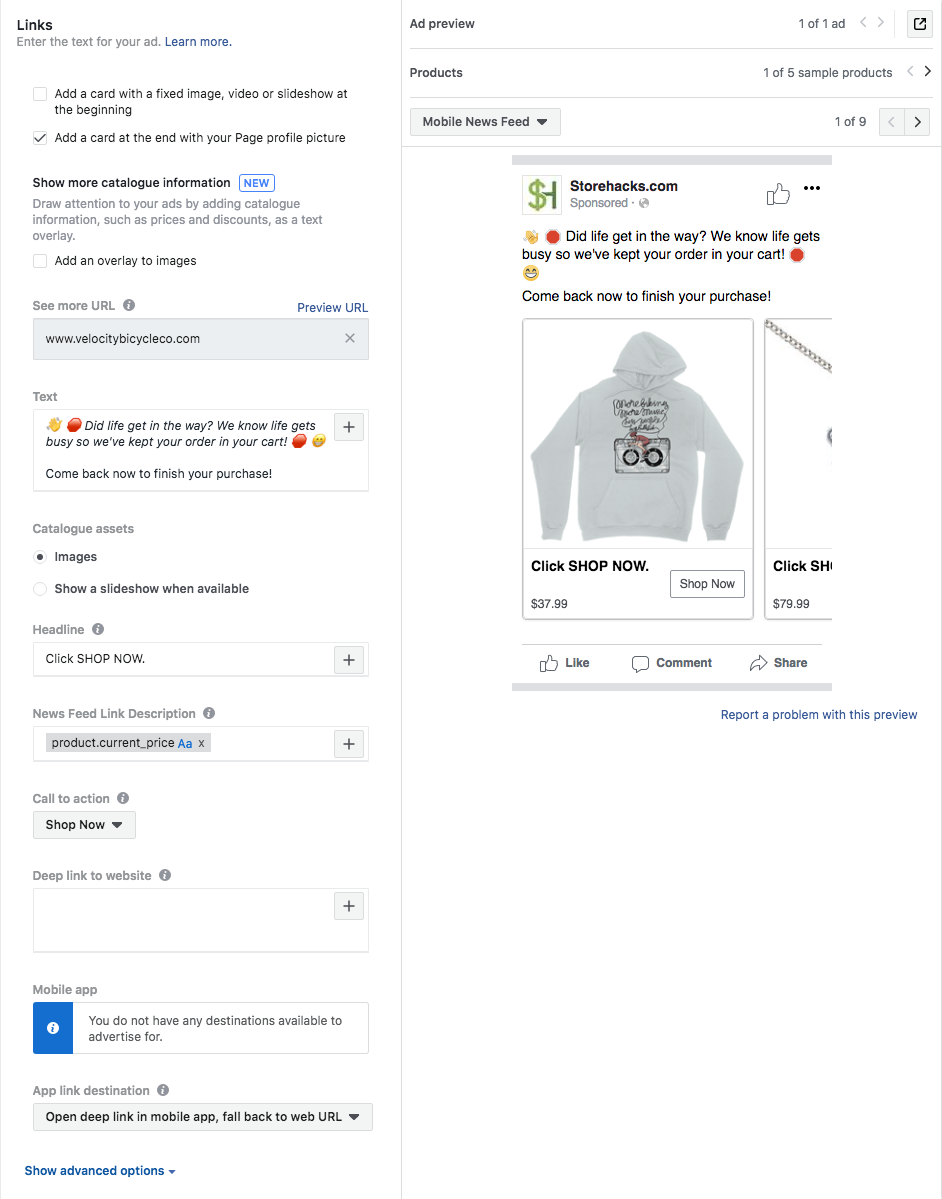 Click "Show advanced options"
NOTE: Make sure you select the correct pixel. The above example is incorrect. Make sure you have your stores pixel set for conversions
Click "Confirm" and wait for your ad to be approved.
Your Discount Codes
At present (as far as we are aware). There is no way to create linkable discount codes for DPA Advertising.
You will need to create discount codes in Shopify and include it in the copy of your ad. Below we have shown you how to do the first for your 10% discount.
Step 1 – The Discount Code
From your Shopify dash, click "Discounts"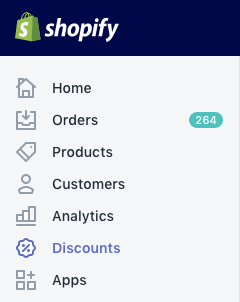 Choose either "Generate code" or input your own.
Enter "10% Discount value"
Applies to "Entire order"
Customer eligibility for "Everyone"
No usage limit
No end date
Click "Save discount"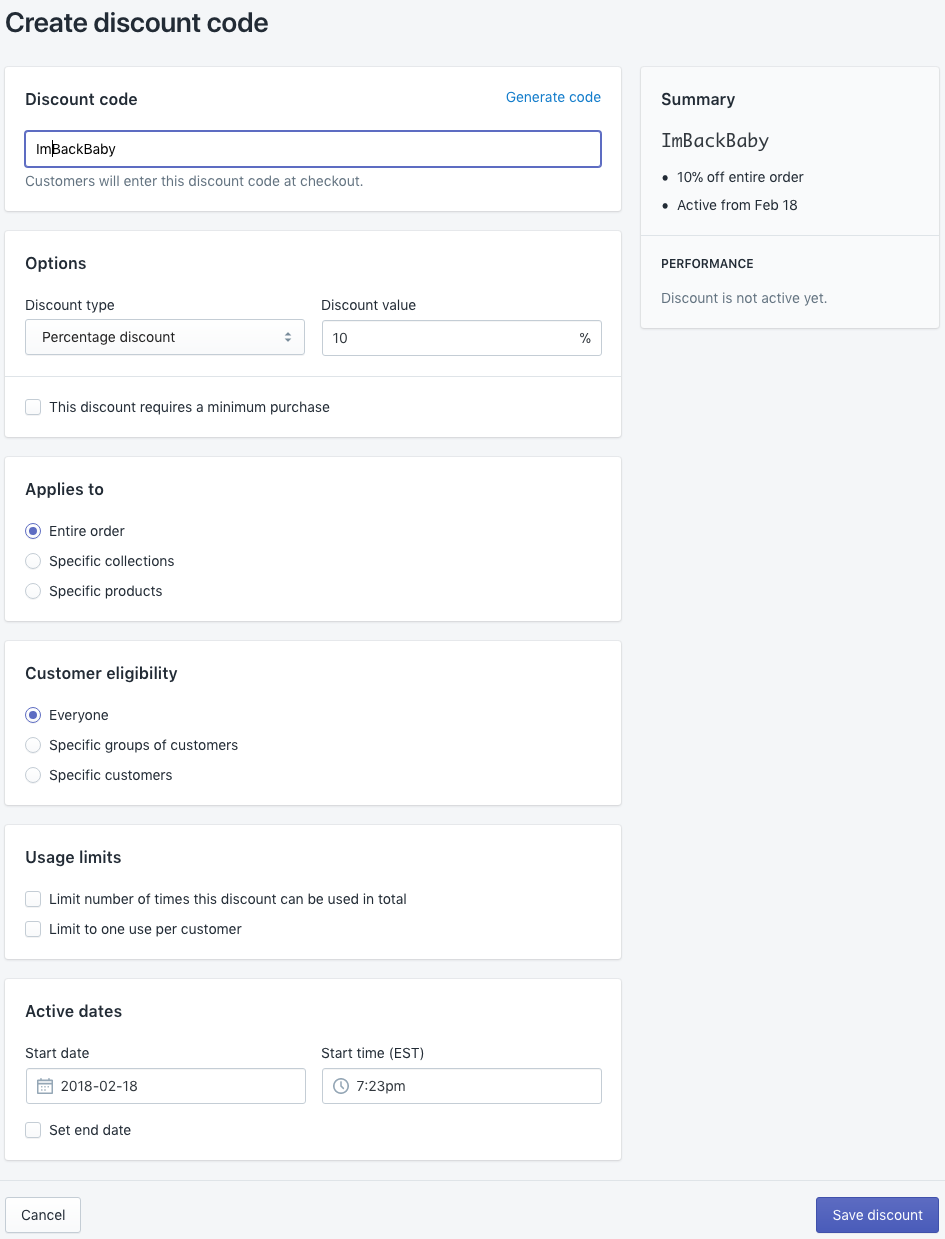 On the confirmation screen click "Get shareable link"
Step 2 – The ad – In the same retargeting campaign. Create another ad set.
Follow the ad setup as previously explained. Except this time we are just changing the copy.
Conclusion – Now get those sales popping!
Once you have created all the ads in your retargeting it is time to click confirm and getting that top end traffic coming back and converting into lifelong customers.
Once your customer has checked out it is then up to you to nurture them and have them turn into brand evangelists by providing an exceptional customer experience.
This funnel is where you will find your cheapest conversions and most importantly, due to having created a series of audiences, you will be running a highly effective retargeting funnel. It really is like shooting fish in a barrel.
If you have found value in this article and will be implementing the strategy we would love you to share it within your networks. If you have any questions be sure do ask them in the comments section below.